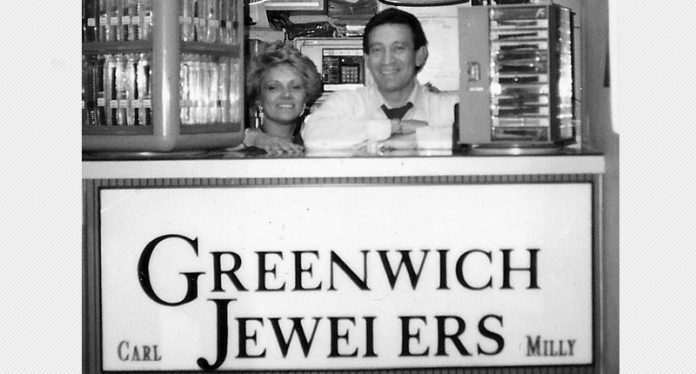 New York–Carlos Gandia, who owned and operated Greenwich Jewelers alongside his wife for 32 years, died Monday. He was 76.
Born Sept. 3 1941, Gandia started in the business at the age of 17 as a jeweler's apprentice, then model-maker and bench jeweler before opening his own booth in an exchange in New York's Diamond District.
One day in 1976, he came home to his wife Milly with an ad that read, "Jewelry Store for Sale." The couple saw their opportunity and opened Greenwich Jewelers, named for its location on Greenwich Street in Lower Manhattan.
The couple built their business with Carlos on the bench and Milly behind the counter, operating per the central tenet passed on to them by the man who sold them the store and acted as a mentor: Treat everyone who comes in as you would a guest in your home.
Gandia, who was known to everyone as Carl, loved being on the bench making jewelry and his clients, whom he considered to be friends.
During the Sept. 11 terrorist attacks, the building housing the store sustained structural damage, and Carlos and Milly, along with daughters Jennifer and Christina, were forced to move to nearby Trinity Place.
"One of the greatest joys of our lives is when we all worked together in the store as a family," Jennifer Gandia and Christina Gandia Gambale wrote in a tribute to their father posted on the store's Facebook page Thursday. "We came together in the wake of 9/11 to do all we could to keep the business alive. And together we thrived."
In 2008, Carlos and Milly retired, leaving the business to their daughters, who recently renamed it Greenwich St. Jewelers as a nod to its original location.
"Carl was a dreamer who had the audacity to believe a Puerto Rican from the humblest of beginnings could become a businessman, serve his community and make a better life for his family," Jennifer and Christina wrote.
"He instilled in us the values of honesty, hard work, service and of having fun while doing it all. We are forever grateful for his example, his love and the gift of this business where we can carry on a legacy of jewelry, the most precious marker of memories and moments in time."
Viewings took place at McLaughlin Funeral Home in Brooklyn on Thursday. Services were set for Friday at the Church of St. Patrick, 9511 4th Ave., Brooklyn, NY 11209
In lieu of flowers, donations may be made to Gandia's favorite charity, Operation Smile.
News Source : nationaljeweleler.com