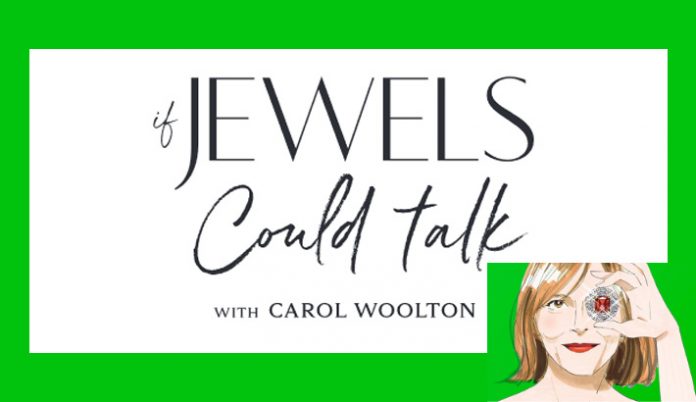 "Jewellery is the most interesting thing we wear because it tells a story about us and the times in which we live. Why someone chooses a piece of jewellery is far more telling about them than anything else they wear. It acts as a glittering identifier, linking us to the past and future. I've never met a stone or a jewel that doesn't have something to say."
Carol Woolton is Britain's leading authority on jewellery and gemstones and has entertained and informed the readers of British Vogue and Tatler as Jewellery Editor for more than 25 years. Now, this writer, lecturer and author of five books on the subject is launching a fascinating new podcast series, "If Jewels Could Talk – With Carol Woolton".
The podcasts explore every facet of jewellery – from who makes it to who wears it and why – and is a must-listen for everyone who loves jewellery or might be buying a piece of jewellery; anyone interested in design and history; and all those who love a rollicking real-life story. "I'll be delving back over four centuries of jewellery history and looking forward to what's happening next in jewellery design," Carol says. "Jewels are the starting point to discuss past eras, romance, lost fortunes, revolution, precious stones and personal histories."
The launch episode, "Hollywood Jewels", broadcasts on Thursday April 22nd, in time for the Oscars. Tune in for Carol's interview with Victoria Brynner (daughter of Academy Award-winning The King and I actor, Yul Brynner, and goddaughter of Elizabeth Taylor) about the glamour jewels of the 1950s, and a fascinating chat with the Kardashians' go-to designer, Martyn Lawrence Bullard, whose showroom hosts a who's who of Hollywood today. As Carol explains, "Jewellery links to design, art, film and fashion. It plays a role in our cultural and emotional lives."
Highlights of "If Jewels Could Talk" Season 1 include:
– Bridgerton's legendary costume designer Ellen Mirojnick on reflecting character through jewels;
– Bling Empire's Christine Chiu, mother of "Baby G", on rocks as social signifiers;
– All that Glitters, the BBC2's new jewellery competition, on bespoke design at speed;
– Superstitious Gems, with British "rock jeweller" Stephen Webster discussing legend, myth and bad stone juju with
Jeffrey Post of the Smithsonian Institute, home to the 400-year-old, 45.52 carat Hope Diamond; and
– First Lady Jewels with Francesca Amfitheatrof, Artistic Director of Jewellery and Watches at Louis Vuitton, on
the style direction American jewellery could have taken if JFK married Marilyn Monroe instead.
Images of the jewellery from each episode can be found on Carol's Instagram page, @carolwoolton, where you can view images of the jewellery discussed and ask any jewel-related questions, which will be answered in the episode. The podcast illustration has been designed by celebrated fashion illustrator Jordi Labanda.
NOTES FOR EDITORS
Carol Woolton is a jewellery historian, editor, curator, stylist and author, and is the Contributing Jewellery Director of British Vogue, where she has worked for more than 20 years. She was the first jewellery editor of Tatler magazine and contributes widely to international print and digital magazines, newspapers and supplements, including The Financial Times; the American and Chinese editions of Vogue; Vanity Fair; Graydon Carter's Air Mail; and The Daily Telegraph. She curates jewellery exhibitions and has written five books on antique, historic and contemporary styles, outlined below. She mentors and promotes young jewellers and designers and is a founder member of The Leopards charity, established in 2016 to preserve the expertise, innovation and design excellence of the British jewellery profession, and to identify and nurture young talent to ensure its future success.
SEASON 1, 6 EPISODES: "If Jewels Could Talk – With Carol Woolton"
Ep. 1: "HOLLYWOOD JEWELS" With Victoria Brynner and Martyn Lawrence Bullard
Carol's launch episode looks at old and new Hollywood jewels. She is joined by Victoria Brynner, daughter of Academy Award-winning actor Yul Brynner and Chilean model Doris Kleiner (whose best friend, Elizabeth Taylor, was Victoria's godmother). Victoria's company, Stardust Brands, links stars with brands, providing casting and creative consulting in the luxury world. Carol and Victoria are joined by Martyn Lawrence Bullard – the TV personality and award-winning interior designer – who designs ring collections for his Melrose Avenue atelier, where the glittering clientele includes Kylie Jenner, Khloe and Kourtney Khardashian, Eva Mendes, Cher and Ellen Pompeo.
Ep. 2: "ALL THAT GLITTERS" With Katherine Ryan, Solange Azagury Partridge and Shaun Leane
The new BBC 2 jewellery talent competition, All That Glitters, is like The Great British Bake Off but contestants cook with precious metals and gems instead of flour and sugar. Eight jewellers battle to create bestsellers and bespoke pieces for real-life clients – in 3 hours. Carol meets the show's host, Canadian comedienne Katherine Ryan, and the judges Solange Azagury Partridge and Shaun Leane, two of Britain's most respected contemporary jewellery designers.
OTHER EPISODES IN THE SERIES
"BRIDGERTON" With Ellen Mirojnick and Lorenzo Mancianti
The hit Nexflix show, Bridgerton, is an escapist fantasy set in fictional Regency-era high society, with ostentatious balls, power-play tea parties, and a thirst for the scandalous gossip rag written by the mysterious Lady Whistledown. In this episode Carole discusses the era's binge jewel-buying, fuelled by the Prince Regent's insatiable appetite for jewels and the endless whirl of social events, with Bridgerton's Ellen Mirojnick, the legendary Emmy- winning American costume designer, and Lorenzo Mancianti, jewellery and prop designer. Their spectacular costumes and royalty-worthy gems have led the auctions of early-19th-century style jewellery to soar in price.
"DIANA SCARISBRICK" With Diana Scarisbrick
Carol talks to the leading jewellery academic Diana Scarisbrick – an author, curator and specialist in neo-classical gems – who studies the cultural, social and political significance of jewellery. Over her 50-year career she's written more than 20 books, including such definitive works as Rings: Jewellery of Power, Love and Loyalty; Jewellery in Britain from 1066-1837; Portrait Jewels: Opulence and Intimacy from the Medici to the Romanovs; and most recently Diamonds: 700 Years of Glory and Glamour. Diana has also amassed a personal collection of Renaissance, 17th- and 18th-century rings. Now in her 92nd year, she is immersed in academia, and her enthusiasm, joie de vivre, and work ethic are as strong as ever.
"FIRST LADY JEWELS" With Francesca Amfitheatrof and Frank Everett
The UK has the Crown Jewels but in the US and France jewellery connoisseurs observe their First Ladies. In this episode Carole and her guests, Francesca Amfitheatrof (Artistic Director of Jewellery at Louis Vuitton) and Frank Everett (former Senior Vice President of Jewellery at Sotheby's New York) explore the hidden meanings of the White House jewels. Jewellery is a powerful messenger and the First Lady makes a subtly powerful statement with what she wears. Francesca Amfitheatrof is brilliantly placed to look at US style having been Design Director at Tiffany as well as the French maison, Louis Vuitton, while Frank Everett is described as the Pied Piper of the New York jewellery scene, having handled some of the world's most important jewels as Senior Vice President of Jewellery at Sotheby's New York.
"SUPERSTITIOUS GEMS" With Stephen Webster and Jeffrey Post
Jewellery is one of the oldest decorative arts, originally answering our need for adornment in the form of shells, feathers, bones and pebbles. This rich cultural history dates back beyond recorded history. Their rarity and beauty meant they were used as decoration as well as amulets, to ward off evil. Gradually jewellery became attached to status, but stones were still considered to bring good health, wisdom and love, while superstitions and curses associated with others linger to this day. Dr Jeffrey Post, mineralogist and Curator of Gems and Minerals at the Smithsonian National Museum of Natural History (home to the infamous Hope Diamond) and British jewellery designer Stephen Webster, the original rock'n'roll jeweller, discuss stones with supernatural powers.
Production credits for "If Jewels Could Talk, With Carol Woolton"
Produced by Natasha Cowan with music and editing by Tim Thornton, creative direction by Scott Bentley and illustrations by celebrated artist Jordi Labanda.