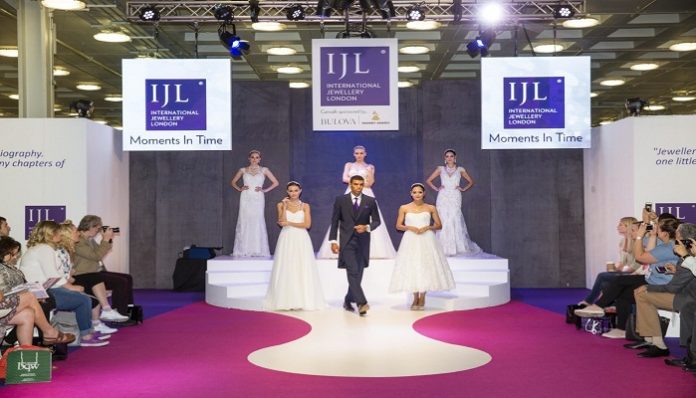 International Jewellery London has outlined key SS19 jewellery trends, which will be highlighted at this year's show.
Curated by IJL trend editor and jewellery expert, Paola de Luca, the trade show will place the spotlight on six key themes to inspire retailers.
These will be presented on IJL's SS19 Trends Catwalk where de Luca will present her detailed forecasts.
The trends decided by IJL's Trends Editor and international jewellery futurist, Paola de Luca are as follows:
Industrial Core
This trend is inspired by urban lifestyles, architecture and redefined industrial materials. Expect to see jewellery with strong connections to minimalist design, including a resurgence of links and chains. Yellow gold versions decorated with diamonds translate industrial inspirations into fine pieces, while silhouettes are kept simple and unisex – in-keeping with broader fashion trends. This highly-contemporary look ties into the growing number of eco-conscious jewellery designers making their pieces in recycled silver, gold or more unusual materials.
I'm Perfection
This trend is all about a play on proportions that creates surreal, optical illusions with geometric and patchwork forms. Jewellery within the I'm Perfection trend could be described as 'contemporary surrealism' merged with Picasso's Cubism; think asymmetrical rings with unusual silhouettes and single earrings that are designed to stand alone, set in yellow and rose gold.
Neo Classic
The pearl continues its renaissance in modern designs. Myriad colours, from golden, peachy pink and white South Sea to silvery-black Tahitian, are inspiring designers to craft new collections with the pearl as the star. To nail this trend, think classic designs with a twist set in precious yellow or white gold. Pearls as stackable charms for necklaces, or combined with a medallion or collection of beads, is likely to shine through.
Dark Romantic
Drawing inspiration from dark forests, magic and mysticism, this trend blends Art Nouveau inspirations with something altogether darker. Think pointed forms, minimal flowers, twisted branches and mysterious snakes finding their way into jewellery designs. Rather than being caricature, this trend has an overall sophisticated and elegant flair, with designs that climb up the ear and swirl around fingers and wrists in gunmetal and shimmering diamonds. Expect to see double finger rings, elongated shapes and spiky earrings especially.
Op-Coding
Discover a mix between Art Deco styling from the 1920s and the Optical art of the 1960s with this striking trend that's centred on black and white, whether in the form of metals, diamonds or enamel. The Op-Coding theme is all about geometric patterns, pixelated effects and sharp contrasts, so expect to see white diamonds artfully placed on black enamel to create digital patterns. Silhouettes are minimal and simple, with a futuristic edge.
Constellation Collective
The space trend has been evident at all major fashion weeks, from designer brands like Alberta Ferretti to Alexander Wang and Givenchy. Stars, moons, planets, flying saucers and constellations will all be captured in sparkling diamonds, especially fancy-cuts and shapes. Metals will only exist to prop up diamonds, so expect to see simpler, highly-polished settings that lend themselves perfectly to heirloom treasures.
News Source:- professionaljeweller.com