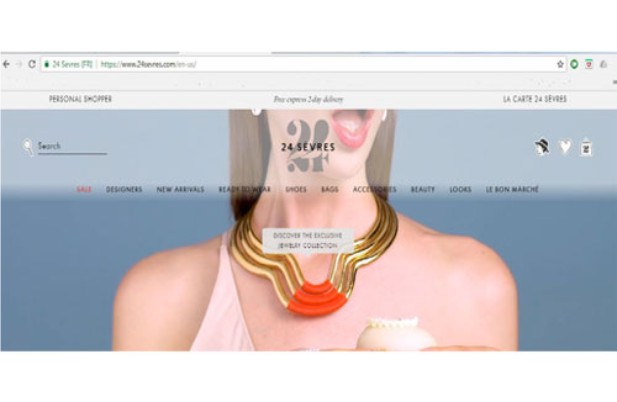 Online jewellery retail, long believed to be geared towards sales at lower and middle-end price points, is now moving upmarket with leading luxury retailer LVMH launching a special dedicated jewellery section on its e-commerce site 24 Sèvres.
The site, positioned as a destination for high-end luxury purchases, will now feature 13 brands including well-known specialist jewellers and jewellery designers such as Ofée, 5 Octobre, Vanrycke, Annelise Michelson and Anissa Kermiche among others.
Prior to the launch, the site only featured smaller items from fashion brands that already had their apparel and other categories retailing online.
Officials of the site indicated that customer feedback showed that there was significant interest in jewellery and this was corroborated by further surveys and the introduction of some limited jewellery collections online.
In a special report on the launch, news agency Reuters said that the prices of the jewellery that will now be available on the site range from $ 90 to $ 2,500.
The agency, quoting a Bain report said that jewellery was the fastest growing segment of the luxury industry last year, registering a 10 per cent rise to reach 17 billion euros. 24 Sèvres itself witnessed major growth over the last year, expanding to 20 new countries according to other media reports.
Other highend jewellery brands such as Richemont are also reportedly enhancing their online presence.
News Source : gjepc.org