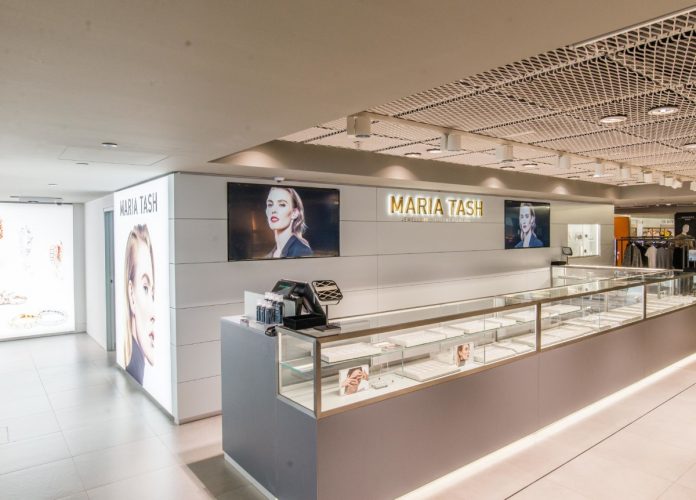 Luxury department store Harrods has welcomed fine jewellery designer and celebrity ear piercing expert, Maria Tash, to its fourth floor Fashion Lab.
Capitalising on the growing trend for consumers to adorn their ears with multiple earrings, Harrods has signed the hottest piercing brand, Maria Tash.
If there's one name that has become synonymous with the recent boom in multiple ear piercings, it is American jeweller Maria Tash. Since launching her first eponymous store in New York's East Village 20 years ago, the jeweller has become renowned, with concessions worldwide, well-known celebrity clients, and a mighty social media following.
Arriving by popular demand, Maria Tash landed in the UK in 2016 with a residence in Liberty London's jewellery hall. Now, as business booms, the jeweller has opened permanent space on Harrod's fourth floor, which has already seen consumers lining up to get pierced and adorned.
Maria Tash has fine-tuned the art and expertise of both piercing as well as designing jewellery that sit on the ear and body in the most flattering way.
Many people travel to see Tash and her trained staff of stylists for their unique technique and unrivaled ear curation. The team treats every customer with an individual approach that takes their complexion, anatomy, and personal aesthetic into consideration.
Unlike typical piercing salons, consumers can leave one of the three custom piercing rooms in Harrods with their desired earring.
The Harrods space, created by Pearl Fit-Out, provides a shopping environment where each customer works with a stylist to select their jewellery. Those wishing to be pierced are then introduced to their assigned piercing expert and guided to a private room that has been prepared for each appointment.
Each piece of jewellery is customized to the client's individual aesthetic and anatomy.
Maria Tash shares: "I'm delighted to bring my designs and expertise to Harrods which has long stood in my mind as an iconic luxury retailer with an outstanding global reputation. London has been an enormous source of cultural and design inspiration and I couldn't be more excited to be joining Harrods and their exceptional landscape of brands."
Maria Tash is currently the only piercing boutique within Harrods and will continue to build on the lifestyle offering available within the Fashion Lab on the Fourth floor, which includes the existing womenswear contemporary fashion and footwear brands, to beauty.
The Fashion Lab on the Fourth floor also offers Harrods clients with services including the Harrods Wellness Clinic and Harrods Restaurants.
News Source : professionaljeweller.com