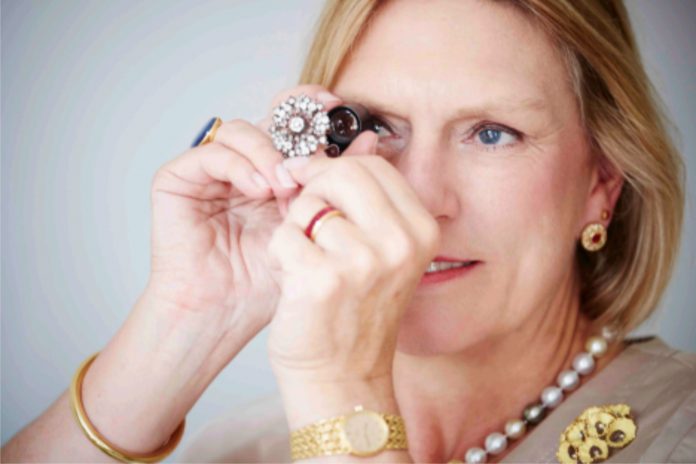 Joanna Hardy has launched an online foundation course in jewellery, which will offer unique insights and interviews with leading London workshops and designers.
The world's first online foundation course in jewellery from renowned specialist, Joanna Hardy, gives unprecedented access to the finest workshops and craftspeople responsible for creating some of the world's most stunning treasures from precious jewels.
Tutor Joanna Hardy, a regular jewellery specialist on the BBC Antiques Roadshow, comments: "My intention is to create a world class online jewellery school, where enthusiastic amateurs or professionals can be introduced to the world of jewellery.
"This is my first foundation course. I'm expecting people ranging from interested hobbyists, career changers and professionals wanting to improve their knowledge – right through to members of the boutique high end jewellery trade."
Award-winning online training provider, Learning with Experts, will offer students the unique opportunity to benefit directly from Hardy's extensive knowledge, drawn from over 30 years experience in the jewellery industry from valuing rough diamonds for De Beers, being a polished diamond dealer in Antwerp to working in Philips Auctioneers and Sotheby's.
The Joanna Hardy Fine Jewellery Foundation Course features in depth interviews with top designers such as Shaun Leane, as well as revealing the inner workings of Wartski, Bentley & Skinner, Yoko London, Monnickendam Diamonds, Gemfields and many more.
Hardy will take enthusiasts through the many techniques and skills employed by master craftspeople, offer advice on how to select jewellery in an informed way and demonstrate how to best care for it.
"Through my course I can teach you wherever you are in the world," explains Hardy. "I'm anticipating students from Europe, the US, Asia and beyond. I'm doing this because I'm passionate about sharing the real stories behind jewellery and ensuring future generations are appropriately educated the world over in this fascinating subject."
The Joanna Hardy Fine Jewellery Foundation Course offers students the opportunity to join small exclusive classes with personally critiqued assignments and is priced at £1,358.
The course comprises of eight tutorials, lifetime access to course content, a flexible study program, optional assignments and online support from the Learningwithexperts.com community.
All students will have direct access to their fellow classmates in the Learningwithexperts.com online classroom. Students who do not require critiqued assignments can purchase the course for a reduced price of £158.
News Source : professionaljeweller.com