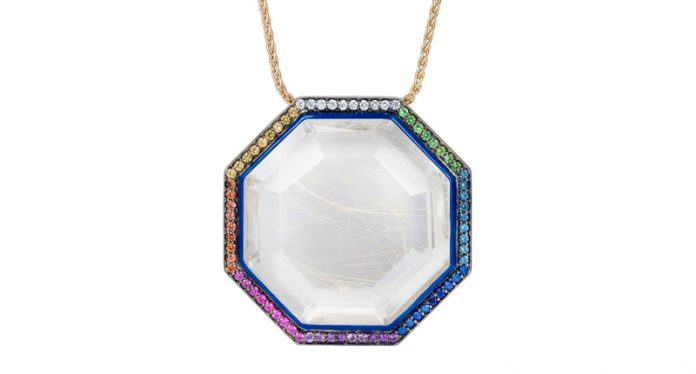 Clear jewelry is trending, and the mystical quality of translucent stones like moonstone and rose quartz suit designer Noor Fares' cosmic-inspired line of namesake jewelry.
Fares is inspired by concepts like sacred geometry and chakras, and her love of crystals is showcased by her use of many different types of stones throughout her various collections.
This "Mahanada" pendant necklace features a translucent center stone, an octagonal rutilated quartz, and is surrounded by a line of electric blue enamel and a halo of multicolor sapphires.
With the new moon solar eclipse taking place yesterday, this is just the piece of jewelry to inspire good vibrations.
The pendant retails for $5,560 and is exclusively available at The Cabinet of Curiosities by Thomas Erbert at the Le Crillon Hotel in Paris.
News Source : nationaljeweler.com