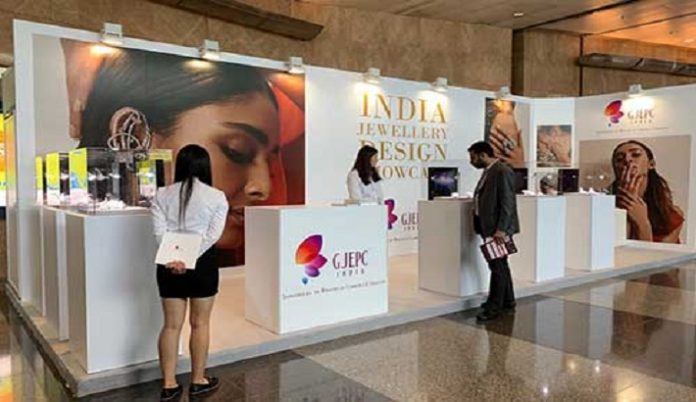 One of the highlights of the GJEPCs India Pavilion at the ongoing Hong Kong Jewellery & Gem Fair, which opened on September 16 at the Hong Kong Convention & Exhibition Centre, is the exclusive India Jewellery Design Showcase with some magnificent jewellery pieces in contemporary designs created for the Hong Kong market.
The jewellery is inspired by the theme COSMOS, a representation of jewellery consumer trends for 2020. Each design features a variety of cosmic elements in intricately crafted rings, pendants, earrings, bracelets and more.
"The India Design Gallery highlights some of the finest contemporary jewellery available from India today," says Colin Shah, Vice Chairman, GJEPC. "The jewellery, designed and manufactured in different parts of India, has one thing in common – it is timeless jewellery for the world. Indian jewellers and craftsmen cater to the most demanding customers across the globe. India's ability to satiate any kind of jewellery requirements has always amazed the world. This has been possible due to Industry's willingness to embrace and adopt the latest technology."
The jewellery at the Design Gallery has been designed by designers who participated in the Artisan Awards, a design-led initiative by GJEPC. Artisan Awards recognises and rewards the best in jewellery design and celebrates the highest levels of artistry, innovation and individuality, elevating jewellery designers to their rightful status of artists.
Talking about the jewellery pieces showcased at the India Design gallery, Milan Chokshi, Convener Promotions & Marketing Sub-Committee, GJEPC said, "Every jewel piece at the India Design Gallery is a manifestation of a designer's vision. The Artisan Awards is a carefully crafted and curated intellectual property of GJEPC that gives Indian designers an opportunity to unleash their sheer talent and shine. As part of the design galleries across the world, these pieces will be a showcase of India's ascent as a dominant player in the world of jewellery design."
New Source : gjepc