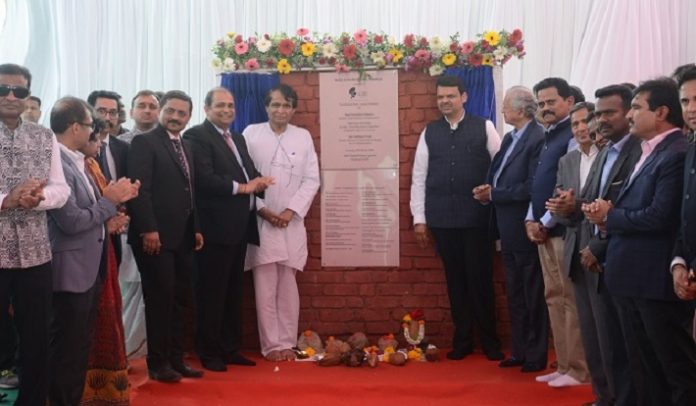 The India Jewellery Park of Mumbai, a mega initiative by the Government of India to take India's jewellery manufacturing and trade to a new level, was inaugurated earlier this month. The project will enjoy a total investment of more than $10 billion and once in operation is expected to generate an annual turnover of $30 billion
The foundation stone laying ceremony was attended by Suresh Prabhu, India's Minister of Commerce & Industry and Civil Aviation; Devendra Fadnavis, Chief Minister of Maharashtra; Subhash Desai, Minister of Industries and Mining of Maharashtra; Ms. Rupa Dutta, Economic Advisor, Ministry of Commerce & Industry; Raj Purohit, Bharatiya Janata Party leader; Pramod Kumar Agrawal, Chairman of the Gem & Jewellery Promotion Council of India ( GJEPC); Colin Shah, GJEPC Vice Chairman; and members of the Committee of Administration of GJEPC.
The GJEPC will be entrusted to construct the Park in the MIDC Industrial Area as a special purpose vehicle (SPV). India Jewellery Park is estimated to generate employment of 100,000 workers, enhance manufacturing, investment, export growth and overall economic development of Maharashtra and in India at large.
Suresh Prabhu, India's Minister of Commerce and Industry & Civil Aviation said: "As the saying goes 'Dhaal dhal par sone ki chidiya' – Gold, gems, and jewellery is part of our life, society, and culture. We had taken several steps to enhance the stature of the gems and jewellery industry as well as increase the number of jobs created. The inauguration of the India Jewellery Park today is symbolic of the direction of the future economic march of our country. We have to inject new energy into enterprise and business in order to generate more jobs and prosperity for the common man. We want to double our merchandise exports from the US $500 billion to a trillion and the gem and jewellery business will have a significant role to play in this endeavour. The gem & jewellery sector has created five million jobs on its own. If we get more diamonds as raw materials, we can process more. We are working on a strategy where we are targeting countries such as Russia and get all their diamonds, process and export them back to their country."
"On the jewellery side, every village in India has a jeweller and we have a flourishing domestic jewellery trade. We have connected to 184 countries to promote all exports including indigenous gem and jewellery sector. India Jewellery Park will create 100,000 jobs and indirectly create multiples of the same. We are in the process of creating a Domestic Gem and Jewellery Council through a democratic process. We want to double exports from US$ 40 billion and generate a similar amount of business from domestic sales," the minister added.