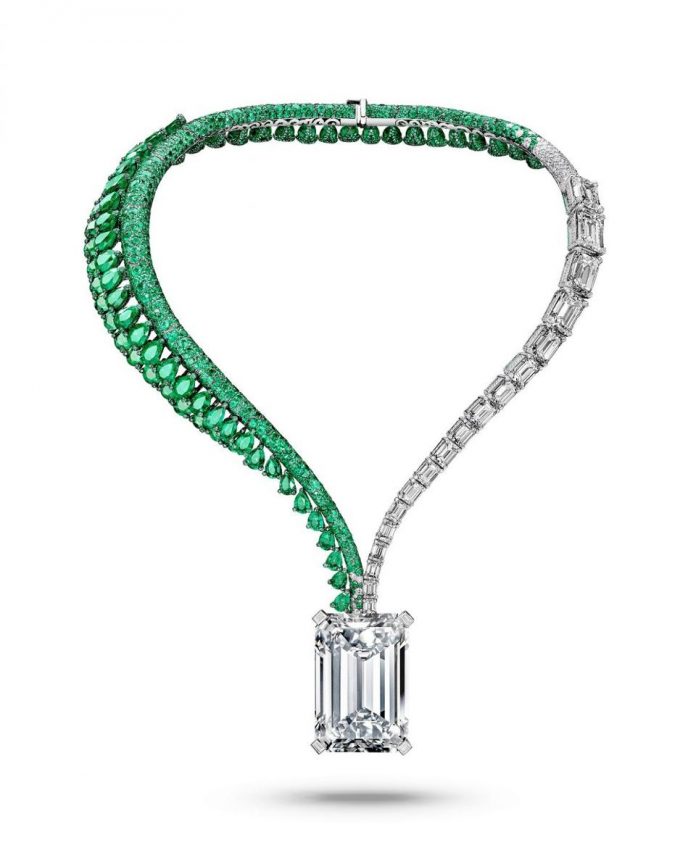 A magnificent 163.41 carat, flawless D-colour emerald-cut diamond that is part of an amazing necklace from Swiss high end jeweller de Grisogono will be up for auction at Christie's Magnificent Jewels sale on 14 November in Geneva, the auctioneer has announced. The stone was the largest of the polished diamonds that were cut from a 404.20 carat rough diamond mined by Lucapa Diamond Company at its Lulo mine in Angola in February last year.
The polished diamond is part of an asymmetric necklace designed by de Grisogono featuring 18 emerald-cut diamonds, flanking the 163.41-carat centrepiece.
Christie's said it is the largest ever diamond of its kind to come to auction. Lucapa also said that the rough diamond was Angola's largest recorded diamond and the 27th largest recorded diamond in the world. More than 10 specialists from Julius Klein Group, including 80-year-old master diamond cleaver Ben Green, who spent months analysing the rough, worked on transforming it into the final cut-and-polished gem.
The dazzling necklace was created by de Grisogono founder Fawaz Gruosi and his team of five master craftsmen and women, with a design that they describe as "outside-the-box".
Lucapa Managing Director Stephen Wetherall said that the spectacular flawless diamond underlines why Lulo is such an extremely special diamond resource. "Lulo produced the highest value diamond production in the world in 2016 and we continue to produce large and premium-value alluvial diamonds from Lulo on a regular basis."
He added that the Company believe that the primary hard rock source of these exceptional alluvial diamonds will also be a special kimberlite discovery, which is why they "have ramped up the drilling of the priority kimberlite targets we have defined at Lulo".
The necklace was recently unveiled at Christie's in Hong Kong and will be also showcased in London, Dubai and New York prior to the auction.
Pic caption: The de Grisogono necklace with the 163.41 ct diamond
Courtesy: Christie's
News Source: gjepc.org