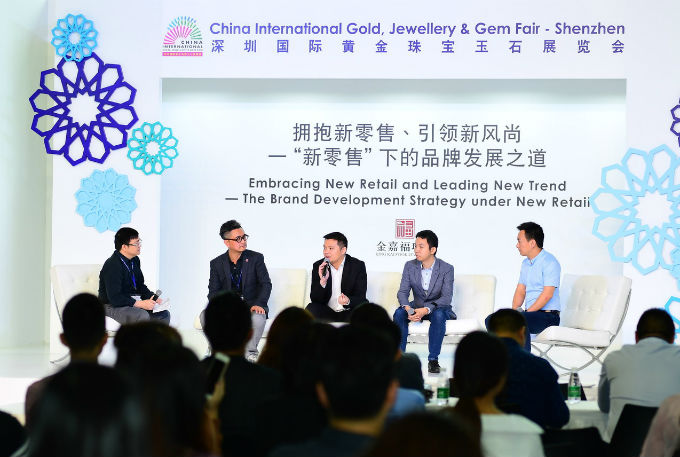 Robust attendance figures at the China International Gold, Jewellery & Gem Fair – Shenzhen (Shenzhen Jewellery Fair) confirm the continuing success of UBM Asia's premiere jewellery show in mainland China.
The fair's 16th edition, held from April 19 to 22 at the Shenzhen Convention & Exhibition Center, drew in 11,319 unique visitors from 78 countries and regions around the world, up 31 percent compared with the show's 2017 edition.
Approximately 300 exhibitors from 13 countries and regions including Australia, Finland, Germany, Hong Kong region, India, Japan, Korea, Mainland China, Poland, Sri Lanka, Taiwan region, Thailand and Turkey showcased their goods. The top 10 sources of buyers (excluding mainland China) were: Hong Kong; Myanmar; India; the US; Taiwan; Korea; Malaysia; Indonesia; Russia; Singapore; and Mauritius.
Mainland Chinese visitors totalled 10,663 from 31 provinces, autonomous regions and municipalities of mainland China. The top five sources of local visitors were Guangdong, Zhejiang, Shandong, Fujian, and Shanghai.
"Despite what we hear about millennials' preference for luxury handbags and travel in lieu of jewellery, the 31-percent increase in our visitor numbers shows there remains a large group of people in this Instagram era who are eager to embrace a luxury lifestyle where exquisite jewellery plays a role. The Shenzhen Jewellery Fair provides these buyers with an unmatched opportunity to buy quality jewellery from esteemed international jewellers," said Teddy Tan, event manager – China Jewellery Fairs, UBM.
Other Asian markets – Hong Kong and India – followed mainland China as the second and third sources of the most number of visitors, respectively. The US had the highest representation from North and South America, while EMEA (Europe, Middle East and Africa) was led by the Russian Federation.
The fair's approximately 300 local and overseas exhibitors from 13 countries and regions were also satisfied with the turnout. Many noted an increase in on-the-spot transactions and walk-up traffic from people who wanted to learn more about their business. Exhibitors also expressed appreciation for the significant investments the fair organizer made to create a visually appealing and engaging customer experience.
One of these innovations was the Brand Village, where leading companies had the opportunity to showcase their image and latest collections to a large number of current and potential customers. Brand Village integrated new branding and product series, innovative materials and technologies, trendy and leading concepts, and inspiring business models. Chow Tai Fook T Mark, Swarovski Professional, Shanghai Laomiao Jewelry Co Ltd, Cmoy Jade, King Kai Fook Jewellery and Shenzhen Kaiente Jewellery Co Ltd were among the leading brands participating this year.
The participation of homegrown talents in the newly minted Designer Pavilion was also warmly welcomed. The debut of the Designer Pavilion at this edition reflected the fair's "Jewellery Resources China 2018" theme and also paid tribute to Shenzhen's vibrant jewellery design and manufacturing heritage.
The Designer Pavilion's launch was made possible with the cooperation of the Shenzhen Jewellery Designers Association. "Great works from individual designers in the pavilion gave buyers a glimpse into what made Shenzhen the jewellery hub that it is today," added Tan.
Another major development that turned heads at the fair was the unmanned jewellery convenience store, which enabled consumers to try and buy pieces of jewellery in an unmanned space. The innovation gave buyers an alternative and novel way to enjoy jewellery shopping. All a buyer needed to do was scan a QR code to open the door to the unmanned booth, and once inside, she could inspect or try on the jewellery, select the desired product and scan the QR code again to pay. The door opened after payment was made.
The China Jewellery Market Summit 2018 meanwhile featured networking opportunities and seminars that provided crucial insights into future industry advances, emerging trends and regulations. Most importantly, they helped create new business opportunities for participants.
According to Tan, Shenzhen Jewellery Fair 2019 will likely debut new features again that enhance the trade show experience and deliver real added value.
He also highlighted the perfect fit between Shenzhen – the city and the host – and fair organiser UBM Asia: "With more than 4,000 jewellery companies calling Shenzhen their home base, the city is the ideal host for the China International Gold, Jewellery & Gem Fair. It has the talent, know-how and infrastructure to serve the members of the global jewellery industry, whilst UBM Asia has a powerful database of serious buyers, a team of experts and professionals and a solid industry reputation."
He concluded, "UBM Asia fairs offer what very few trade shows can – expertise in closing the gap between jewellery, gemstone and diamond manufacturers and distributing channels. This means low prices for buyers, and opportunities for high profit margins for our participants."
Shenzhen Jewellery Fair's 2019 edition will be held in April 2019 at the Shenzhen Convention & Exhibition Center.
News Source : jewellerynet.com