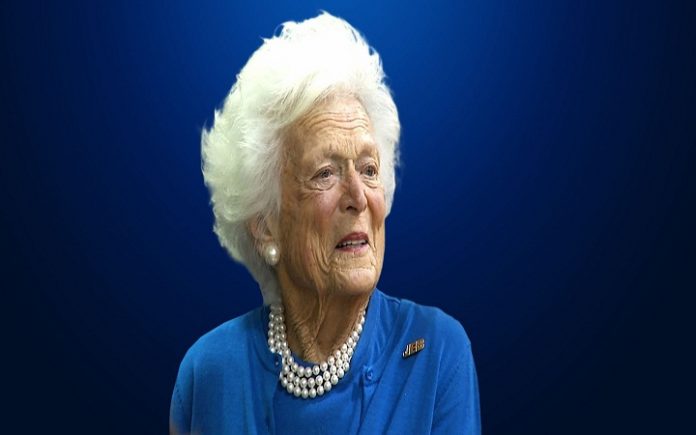 Former first lady Barbara Bush, who died yesterday at age 92, was known for her tart tongue, her unvarnished look, and, especially, for her pearls. And for that, the industry has long been grateful.
Many first ladies have sported pearls, but no one became as associated with them as Bush, who famously wore a strand of fakes and $29 pair of shoes to her husband's inauguration and was rarely seen without a snow-white necklace. Bush once joked that she wore pearls so often that, without them, her head would fall off.
Kenneth Jay Lane, the designer who created Bush's inauguration necklace (and who died last year), told the Chicago Tribune in 1989 that the first lady's conspicuous product placement had quadrupled sales of his famous fakes.
"The demand is so great, it's as if they just invented the pearl," he said. "I've done pearl necklaces for years and years, but it's Barbara Bush who has sent pearl sales through the ceiling."
Demand was particularly strong for Bush's signature three-strand choker, he said.
"The three-strand necklace is by far the major look," Lane said. "It's outselling the double-strand significantly."
A UPI article that same year agreed. "Thanks to Barbara Bush," said the story, "American women are dusting off their strands of pearls."
Charles W. Rice, president of the United Jewelry Show, told the news service: "'Everyone can emulate [Bush] because everyone thinks of her more or less like a mother.… The funny thing is that many people had these type of pearls for years. So all they had to do is dust them off and move them from the back shelf to the front shelf."
So how many pearl necklaces did Bush have? "The last time I checked she had about 10 different pearl necklaces," her deputy press secretary Jean Becker told UPI in 1989. "She says she just really likes them.
"Suddenly she is setting all these trends and she kind of gets a kick out of it," Becker added. "'She enjoys looking nice and certainly looks her best, but it is not what is most important."'
Pearl industry veteran Aziz Basalely, owner of Eliko Pearl and the president of the Cultured Pearl Association of America, today credits Bush with popularizing the classic pearl look.
"She was always wearing pearls, and people took note," he says.
Bush later donated a strand of pearls to the Smithsonian's National Museum of American History in Washington D.C., where they are displayed alongside a Judith Leiber purse.
In an interview commemorating her 90th birthday, she told granddaughter Jenna Bush Hager on the Today show that she started wearing pearls to cover her wrinkles.
"They no longer do," she lamented. "You can't wear pearls all over your face."