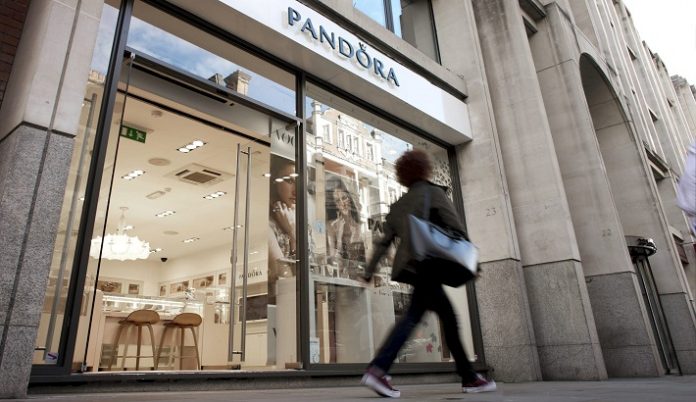 Pandora announced earlier this year that it will be undergoing a major brand overhaul, but has been pretty quiet on the details.
Now, in its Q2 financial results, the jewellery giant has provided a further glimpse into its vision for the rebrand.
In a nutshell, Pandora is going back to its core DNA of personal expression and collecting jewellery, but it will be doing so in a way it hasn't does before
While products are key, the main focus of the rebrand is on the customer experience.
Pandora has prepared the foundation of the brand relaunch through in-depth consumer demand research in the jewellery space combined with analyses and learnings based on the history of Pandora.
Research revealed the Pandora customer is not charactised by age, income-bracket or other generic metrics, but rather a desire to emotionally connect with a jewellery purchase and express emotions for passions, places and people through its purchases.
The company's transformation programme, Programme NOW, identified four key issues; a blurred brand experience, weak initiatives on charms collecting, over push, and executional inconsistency. All the brand's consumer studies confirm that collecting of jewellery continues to be highly relevant but the four issues have led Pandora's core proposition and brand relevance to drift and gradually weaken among consumers.
Therefore Pandora is going back to what made it so successful at the start, but with a refreshed company purpose, which will be: "We give a voice to people's loves – Passions, People & Places". This purpose will be deeply rooted in all touchpoints and commercial initiatives to take Pandora back to its core DNA of personal expression and collecting.
A completely refreshed visual identity will also be introduced, and Pandora is adopting pink as its new main marker and recognisable statement across all consumer touchpoints.
The new visual identity also entails an updated logo and monogram, emphasising the fine art of Pandora's craftsmanship.
The brand relaunch will be complemented by collaborations, celebrity-endorsements and partnerships with influencers. Pandora has partnered with Millie Bobby Brown, two-time Emmy nominee and UNICEF's youngest-ever Goodwill Ambassador to promote the Pandora brand and new collection
To further improve reach and excitement about the brand relaunch, Pandora will also collaborate with six global influencers with significant reach on social media which include Nathalie Emmanuel with more than 5.5 million Instagram followers. Additionally, Pandora will launch product collaborations later in the year with both Harry Potter and Frozen II. These additional launches will reach the consumers later in the year and, among others, feature charms of characters and key items from the two franchises.
A number of new products will hit the market in conjunction with the brand relaunch, including a fresh charm concept designed to target younger consumers and strengthen collection.
Furthermore, new store concept has also been designed and roll-out begins with one experience store in Shanghai and a number of fully refurbished key stores as pilots in 2019 – the first being in the UK.
Pandora will also partly refurbish a number of other stores with selected high-impact elements, while more than 1,000 stores will have impactful windows visuals signalling the brand update.
The new store concept has an optimised store layout built for intuitive consumer flow and self-discovery including newly designed store elements.
Online will also have a makeover and will include significantly improved listing and product pages to optimise navigation and check-out flow. The new online stores will have cleaner visuals and better product imagery while blending story-telling and transactional content in a complete and compelling framework.
Later in the year, the Bracelet Builder feature – another innovation to strengthen collecting – will be launched on selected online stores.
The new online stores are also optimised for "mobile first" and ready for integration of further omni-channel features. For example, the brand is looking to introduce Click and Collect in certain markets.
New Source : professionaljeweller