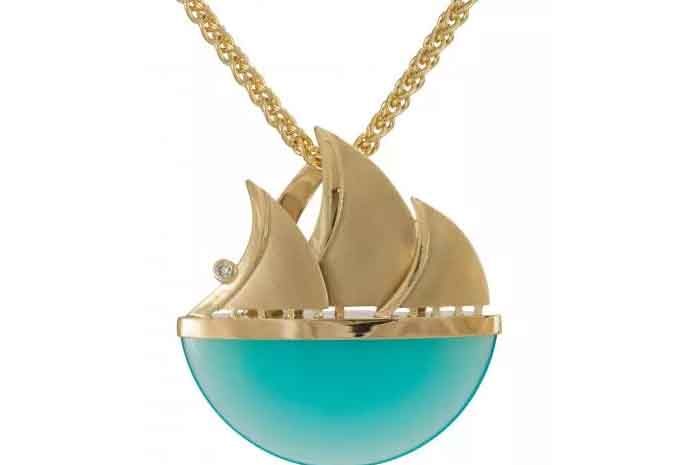 Jewels for the winter-averse
There are those who pack their bags and head to Hawaii come the holiday season (personally, I think that sounds fabulous, and I'd love to give it a try sometime). For them, Christmas trees become palm trees, eggnog becomes a tropical libation, and the only white they'll see covering the ground is sand—never snow. They're the ones who strive to wear their flip-flops year-round, who always have a swimsuit at the ready, and who would probably never consider a ski-centric vacation. So, those customers whose holiday playlists consist of little ditties like "All I Want for Christmas Is a Real Good Tan" and "Mele Kalikimaka" (who doesn't love that song, though)—these pieces are for them. Not everyone can break away from the snow this time of year, but these jewels will serve as a friendly little reminder that it's always summer somewhere—even if it's on the other side of the world.
Wave pendant in sterling silver with larimar, $225; Alamea
Beach bracelet in sterling silver, $558; Amy Kahn Russell
Shell brooch in 18k white gold with 15.24 cts. t.w. pink sapphire and 2.62 cts. t.w. diamonds, price on request; Andreoli
Plumeria pendant in 14k rose gold with 0.14 ct. t.w. diamonds, $895; Artistry Ltd.
Bahina Classic flower earrings in 18k yellow gold with mother-of-pearl and iolite, $1,450; Bahina Jewels
Under the Sea black pendant in sterling silver with enamel, $385; Belle Étoile
Under the Sea cuff bracelet in 22k gold leaf and enamel, $348; Évocateur
Sea Stars swing necklace in sterling silver, $155; Giovanni Raspini
Petits Bonheurs Coconut Tree pendant in yellow gold with South Sea pearl, price on request; Jewelmer
Sailboat pendant in 14k yellow gold with 10.6 ct. gem silica, 5.2 ct. blue-green tourmaline, and 0.39 ct. citrine, $2,618; Murphy Design
Palm tree pendant in 14k white gold with tsavorite and 0.08 ct. t.w. diamonds, price on request; Stuller
News Source : jckonline.com