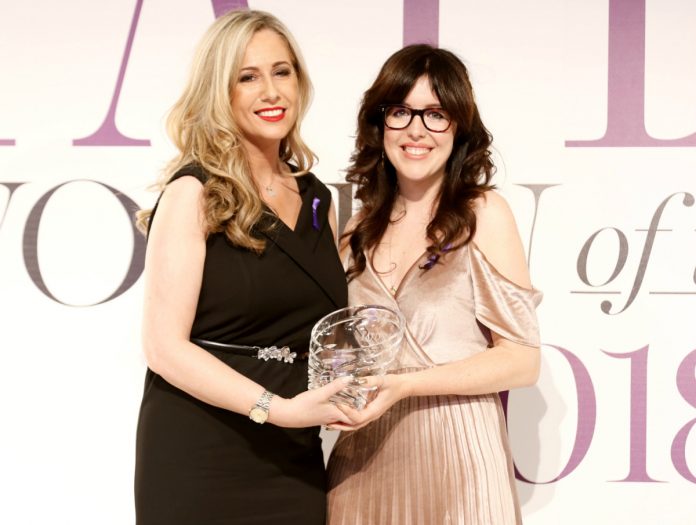 Jewellery designer Chupi Sweetman scooped an accolade at the prestigious Irish Tatler 2018 Women of the Year Awards.
The annual Irish Tatler Women of the Year Awards, which this year took place at a star-studded ceremony at Dublin's Clayton Hotel on October 20, honours the female leaders whose careers and special achievements have had an impact on women across Ireland this year.
On the night, Chupi Sweetman, founder of eponymous Irish jewellery brand Chupi, was named the winner of the Fashion category, sponsored by Marks & Spencer.
Sweetman was praised by the judges for creating a brand that has "become synonymous with elegant, high-quality, nature-inspired designs and a business plan based on celebrating memories, past and future".
They added: "At the root of her success is a (Wicklow) mountain-moving passion for sparkles and, perhaps even importantly, for bringing joy to people… Chupi Sweetman's jewellery pieces and brand reflect the Irish gift for story-telling. With every single piece crafted with its future as a beloved heirloom in mind, Chupi celebrates passion, love and brings that magic spark(le) to her customers' everyday lives."
On winning the award, Sweetman shares: "When the team at Irish Tatler told me I had been nominated for a Women of the Year Award, I was so touched – the awards have long been given to serious women of substance and it was a privilege to be in their company. To say I didn't expect to win would be an understatement.
"Sitting in the room and hearing from such incredible women who have campaigned to make the world a better place made me incredibly proud to be a woman in Ireland today. It was an honour to stand beside women who have given so much to make the world a better place – being there filled me with hope. As for me, I couldn't have done any of the tiny contribution I've made without my brilliant team, and I would like to thank everyone who has supported me for making this possible."
Former Topshop designer Sweetman founded Chupi in 2013. She has also recently been awarded the first Entrepreneurial Spirit Award at the UKJA 2018 and an Irish Made by Irish Country Magazine Award in 2017.
News Source: professionaljeweller.com