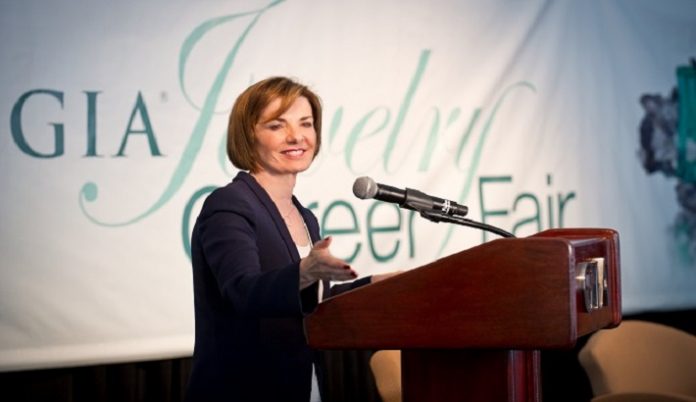 The Gemological Institute of America (GIA) has announced that Kathryn Kimmel, Senior Vice President and Chief Marketing Officer, will be retiring on August 30, 2019.
"During her 29 years of dedicated service to the Institute and its mission to protect consumers, she built a remarkable and enduring legacy," GIA said in its announcement statement.
"Kathryn opened doors and created opportunities in the gem and jewelery industry for so many women and men," said Susan Jacques, GIA President and CEO. "Her pioneering spirit and tenacity established the annual GIA Jewelry Career Fairs for GIA students and for tens of thousands of industry professionals looking for knowledge, development and advancement within the gem and jewellery industry. Millions of consumers across the world have confidence in their gem and jewellery purchases because she had the insight and drive to reach them with independent, credible and research-based knowledge about diamonds, coloured stones and pearls."
GIA noted that Kimmel played a "key role" in shaping the Institute's domestic and international marketing, public relations and communications outreach efforts. "She steered the launch of GIA's digital presence with consumer and trade focused websites designed to offer valuable, dynamic and interactive content," the Institute said elaborating on her contribution. "Her most visible achievement was developing the Institute's ongoing consumer outreach campaign to help consumers understand the 4Cs of Diamond Quality and the importance of GIA's independent gem identification and grading reports to trust their purchases."
"Kathryn's expertise, guidance and unerring dedication to GIA's mission helped to make our Institute what it is today," said Tom Moses, GIA Executive Vice President and Chief Laboratory and Research Officer.
Kimmel initiated the GIA Jewelry Career Fair in 1991, which has expanded in the last 28 years to Carlsbad, India, Las Vegas, London and New York, and thereby "bridged the gap between the trade's need for new talent and the ambition of GIA graduates and other aspiring professionals" GIA stressed.
In the same year, Kimmel became the co-chair of GIA's International Gemological Symposium and was the driving force behind six Symposia since, including the most recent one in October 2018 in Carlsbad.
"My heart will forever be with the students – seeing them study at GIA, coming to GIA's Jewelry Career Fair and becoming industry leaders has been one of the most rewarding parts of my job," said Kimmel.
Over the years, Kimmel has won broad acclaim for her many contributions to the industry. She received the YWCA's Tribute to Women and Industry (TWIN) award, the AGS Distinguished Service Award, the GIA Richard T. Liddicoat Award for Distinguished Achievement, the 24 Karat Club Excellence in Service Award, the WJA Award for Excellence in Promotion and the AGS Triple Zero Award. She is also a member of the WJA Hall of Fame.
"As a third-generation member of the jewelry industry, Kimmel acquired a broad range of experience in many of its areas, working in retail, as managing director of Anthony Geml Jewelers in Southern California; and in manufacturing, as customer service manager and later as vice president of marketing and sales for Nova Stylings, the award-winning design and manufacturing company," GIA noted. "She is a founding member and served on the national board of the Women's Jewelry Association for 20 years, and is past president of the Los Angeles Chapter. She also served on the national board of the Jewelry Industry Council and the board of the 24 Karat Club of Southern California."
Pic Cap: Kathryn Kimmel during a previous GIA Jewelry Career Fair.
Pic Courtesy: GIA
New Source : gjepc