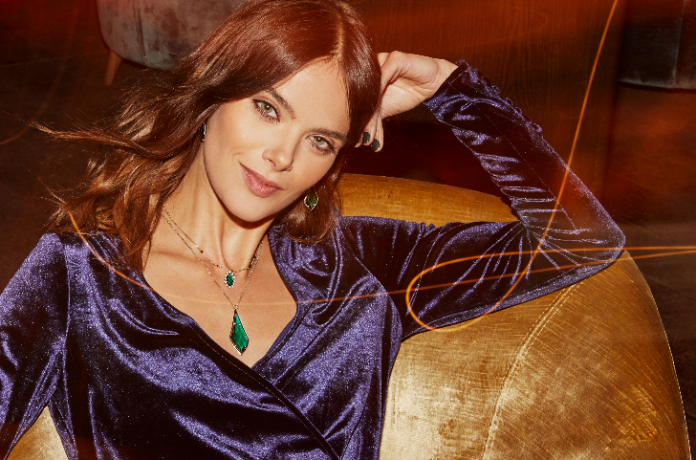 Kendra Scott, an American jewellery brand valued at more than $1bn (£754m) has chosen London for its first store outside of North America.
Today (Nov 20th), the American brand, best known for its use of natural gemstones and customisable jewellery, will open its first ever overseas retail concept at Selfridges London.
Opening in just in time for Christmas, the Kendra Scott shop-in-shop on the lower ground floor of Selfridges will feature the brand's unique 'Color Bar (colour bar), offering customers the opportunity to express their unique style through the personalisation of necklaces, earrings, bracelets and rings.
At the colour bar customers can create bespoke pieces of jewellery in a matter of minutes, in just four easy steps. First consumer select the jewellery category, followed by preferred style and stone. Last but not least to complete the personalisation, a metal finish is selected from gold, rose gold, rhodium, or gunmetal.
Pieces range from £50 for the signature ELISA necklace, to £1,100 for unique full diamond necklaces, offering consumers accessible luxury collections that are timeless yet very much on-trend.
Founded in Austin, Texas in 2002 by designer, philanthropist and the brand's namesake, Kendra Scott, the company has grown from a one-woman operation into a multi-million pound jewellery phenomenon with over 2,000 employees and 75 stores.
With Kendra Scott firmly at the helm, the company continues to espouse its founding principles of family, fashion and philanthropy; in 2016 alone Kendra Scott donated over £2.6 million and 75,000 pieces of jewellery to 3,500 US and international charitable organisations.
On her expansion into the UK, Kendra Scott shares: "This is such an exciting milestone in our journey and we cannot wait to meet our UK customers and welcome them into the KendraScott family. When I started this brand almost 16 years ago, I never could have imagined that one day I'd be opening in Selfridges. London is such an incredible epicentre of fashion and design and we're thrilled to soon be part of this inspiring community."
News Source: professional jeweller