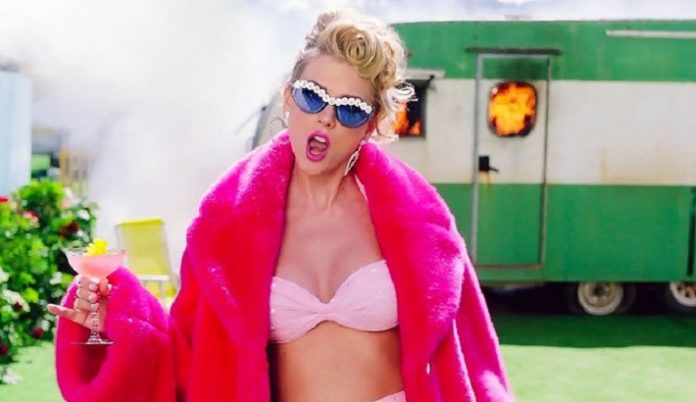 A London-based jewellery designer created an exclusive pair of earrings for Taylor Swift's marketing material for her latest single.
The new song, 'You Need to Calm Down', launched last Friday, with press remarking, "how can we calm down when the heart earrings in the single cover are so extraordinary"?
The statement heart earrings they are talking about were made exclusively for the singer by London-based, Anabela Chan.
Crafted in 18ct gold, the earrings are adorned with pink, canary, and white lab-grown diamonds, fitting in with the song's colour theme as an anthem for Pride month.
Chan's Pale Rose Cinderella ring also features in the video. This piece is adorned with lab-grown diamonds and created gemstones, including an 18ct princess-cut pink sapphire as the centerpiece.
While Swift has not made any statements about her choice to wear lab-grown diamonds. Anabela Chan is an advocate for this sector of the market after being shaken by a visit to a gemstone mine in Sri Lanka.
Recalling the decision to work with lab-grown, Chan shares: "When I was in my first year at the Royal College of Art in London, I met a friend from footwear design whose family is in the gemstone and mining industry. Naturally, I asked curiously why she wasn't on the goldsmithing and jewellery course, like I was. She simply said, if I had seen what she had seen, then I would not want to be a part of that industry, too. Like a seed planted in my head, I became curious with the centuries-old traditions and romanticism over the fine jewellery and gemstone industry.
"I have always been an eternal optimist. When I went on my honeymoon three weeks before my final graduation show at the RCA in 2013, I made sure to visit a gemstone mine in Sri Lanka during our adventures. Seeing is believing – I was shocked and sadden to see the working conditions of the mine, the risks and the inequality of the excavation of such precious things – there was nothing romantic and beautiful about it, and it was at that moment I decided to explore alternative options and began my research into championing laboratory-grown and created gemstones in my own fine jewellery collections."
Anabela Chan is a London based award-winning jewellery designer and artist, who arrived at jewellery from a prestigious background in architecture, fashion and art. This year, Rihanna, Lady Gaga, Anne Hathaway, Julia Roberts, Lupita Nyong'o and Taylor Swift amongst other global superstars and royalties have all graced red carpet events wearing her enchanting, statement pieces.
News Source: professionaljeweller