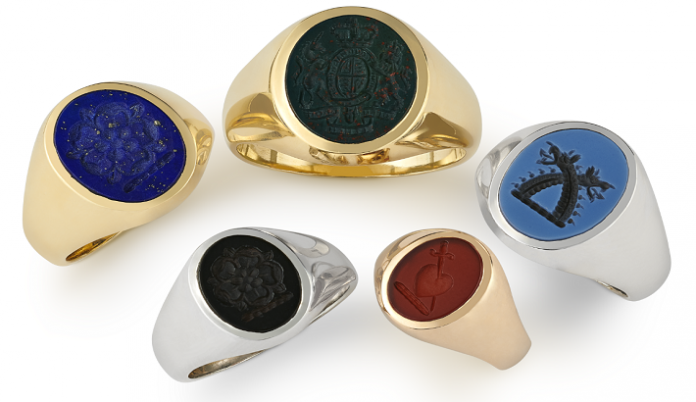 Once the preserve of aristocratic gentleman or retired Army types, signet rings are enjoying a major resurgence of interest among young people and especially women.
Cara Delevingne, Rosie Huntington-Whiteley, Kate Moss and Pippa Middleton are among early adopters, flaunting engraved gold or silver rings on their little fingers.
Traditionally, given as a coming of age gift at 21, or to represent membership of an exclusive club or society, but you do not need aristocratic roots to wear one anymore.
Whether designed as an essential piece of family heritage, or for millennials who want to reflect the vogue for heritage jewellery, London jeweller Hancocks has seen the rings make a major comeback this year and launched a dedicated website in response.
The signet ring site, www.hancockssignetrings.com – will allow consumers to create a bespoke signet ring,
Hancocks London director, Guy Burton, shares: "We have been making signet rings since 1849, so we know what we're doing, but we have seen a real resurgence of interest over the past couple of years – and it's not just the domain of men anymore, demand is coming from young women too.
"We're often asked what's driving demand. It's a number of factors. People have become interested in family genealogy and there's been a lot of coverage about silver and gold being recession-proof. Put those together and a signet ring is something unique, will hold its value well and you can be worn with anything. Quite simply, they're a classic accessory which can be dressed up or down but one that always looks very stylish."
Gold still makes up the vast majority of sales, and while family crests remain most popular, demand for initials or other bespoke designs is increasing.
Burton adds: "Our workshop has decades of experience in these time-honoured traditions and all our signet rings are meticulously crafted here in the UK.
"Our signet rings are all 'seal engraved' which is a very specific style of engraving whereby the image and lettering is carved very deeply and in reverse. This traditional technique means that when the ring is pressed into softened wax to form the seal the resulting impression reveals the correct image.
"All our signet rings are supplied with a boxed wax impression for you to keep which shows you the mirror image of your signet ring engraving. Whilst few signet rings are used for their original purpose today, they are still worn and enjoyed by both men and women who are looking for something personal and meaningful to wear every day."
News Source: professionaljeweller