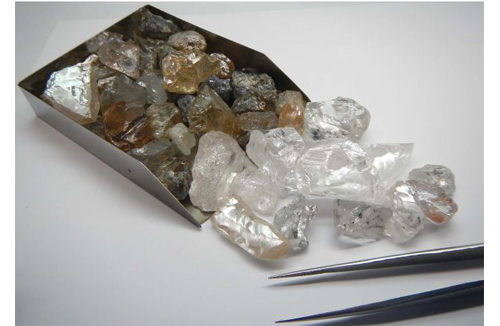 Lucapa Diamond Company has announced that the seventh sale of alluvial diamonds from the Lulo mine this year has generated gross proceeds of US$ 7.4 million, taking gross proceeds from Lulo diamond sales to date in 2017 to US$ 24.3 million.
The company and its partners, Empresa Nacional de Diamantes E.P. (Endiama) and Rosas & Petalas, said that they sold 3,214 carats at the latest sale for an average price per carat of US$ 2,298. The latest sale parcel included Type IIa gems weighing 83 carats and 58 carats as well as some coloured diamonds. The diamonds at this sale were predominantly recovered from the high-value Mining Block 8 area at Lulo, where mining operations continue.
Average price per carat of all the Lulo diamonds sold in 2017 now stands at US$1,640, the Company said.
In a separate development, the Company MD and CEO Stephen Wetherall said that Lucapa was aiming to commence production at its recently acquired Mothae mine in Lesotho by Q2 2018. The mine will be run by Lucapa along with its partner, the Government of Lesotho, which owns a 30% stake. Wetherall was speaking at the Africa Downunder conference, held in Perth.
This will be the second mine in the Company's portfolio and has the second highest JORC resource $ per carat for a kimberlite mine – 1mn carats at US$ 1.063 per carat, he told the delegates.
The Company is currently developing an optimised development plan for this project, which would be submitted to the board for approval, he added.
Pic caption: Selection of Lulo Specials (diamonds weighing >10.8 carats) from the latest sale parcel
News Sorce: gjepc.org