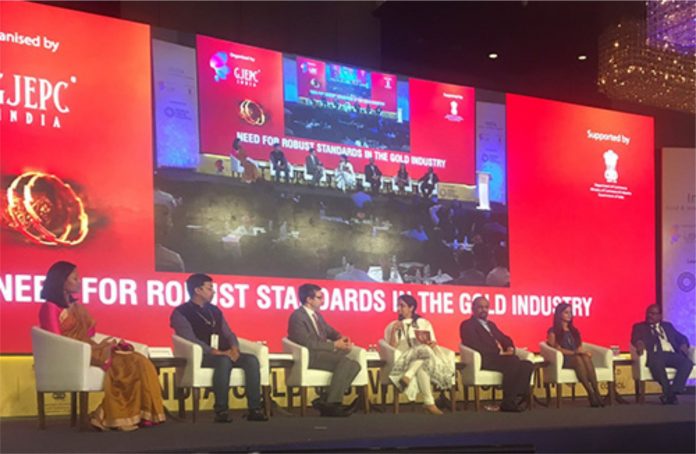 Adoption of cutting edge technology for manufacturing, along with a focus on self-regulation and achieving compliance with standards on various fronts, are two of the key factors that can drive India's push to become the largest exporter of gold jewellery worldwide by 2025. This was one of the major takeaways from the two concluding sessions on the first day of the India Gold & Jewellery Summit held on November 23-24, 2018 in New Delhi.
In the session of 'Technology and Innovation in Jewellery Manufacturing – Doubling of Exports', a panel comprising experts both from within the industry and outside discussed the role that new technologies could play in the process of making the Indian jewellery industry the leading global player. The tone for the discussion was set by Mr Amith Singhee, STSM & Manager, Retail & Operations, IBM Research India, who talked about the new possibilities opened out by the integration of Artificial Intelligence (AI) and cloud computing into software programmes. Using the example of a 'cognitive mirror' technology developed by the company, he demonstrated how the contours of jewellery retail could be totally redrawn in the days to come.
Talking about the role of technology in manufacturing, Mr Sanjay Ranawade, Chief Manufacturing Officer, Titan Company Ltd. sketched out the concept of 'Karigar Centres', fully-equipped manufacturing hubs developed by the company where artisans doing job work for the company could utilise modern tech systems. As a result of this, the artisans were better able to focus on design and craftsmanship, their core competency, he said.
Mr K. Srinivasan, Convener, Jewellery Panel Committee of GJEPC stressed the need for innovation and advancing with the times. He pointed out that while 'smart' technologies were being applied in so many areas, there was, as yet, not enough 'smart' manufacturing in this field!
Mr Tanmay Shah of Imaginarium said that technology should be applied to solving particular problems. Citing the example of catering to young buyers today who want a degree of personalisation in every item they purchase, Shah explained that by using systems like cloud computing and 3D printing, which Imaginarium offers, every company could be in a position to offer customisation of a design with time-bound delivery while holding almost zero inventory.
Mr Tarun Jain, Head of Dubai Design Academy, DMCC said that the systems in Dubai were driven entirely by technology, from start to finish. This ranged from a virtual design library, to using tech to enable the customer to adapt a design "anytime, anywhere", right up to smooth tech-driven feedback from each and every customer that could drive course corrections and future plans.
Three other speakers from the tech world, Mr Gaurav Mathur, CEO, Safe Gold, Ms Priya Meenakshi Narsimha, PhonePe and Prof Kiran Momaya, Professor, IIT – Bombay all spoke about the products and services they were offering to the jewellery industry, which could help individual companies benefit from the technological changes sweeping through the world.
The session was moderated by Mr Colin Shah, Vice Chairman, GJEPC.
The focus shifted to compliance and standards in the concluding session of the day, with a panel discussion on "Need for Robust Standards in the Gold Industry". It began with presentations by Mr Terry Heymann, Chief Financial Officer, World Gold Council on the growing trend of investors being influenced by a company's/industry's impact on climate change, and Ms Rashmi Dastidar, Chief Risk and Compliance Officer, MMTC-Pamp who said that setting standards helped a company not only meet regulatory requirements, but could also influence the way consumers perceived it.
Subsequently, both speakers joined in the panel discussion on the subject moderated by Ms Aarti Nilhalani – Partner, Oliver Wyman. Other panellists included Mr Rahul Gupta, Bullion Federation of India (BFI), Ms Sakhila Mirza, Executive Director, LBMA, Mr James Jose, Founder Secretary, The Indian Association of Hallmarking Centres and Mr T. Kalaivanan, Deputy Director General (Hallmarking), BIS.
There was a broad consensus that creating and adhering to standards was necessary both to win consumer confidence and comply with regulations, though there was some divergence on how best this could be achieved.
An intense discussion took place on a couple of issues – particularly whether an industry should step forward, set its own standards and encourage compliance through peer pressure and competition to win over the consumer, or be content to wait for a government to come forward and establish a regulatory framework and enforcement mechanism.
While some of the panellists pointed out that the industry would benefit from taking the initiative, just as say, the LBMA had done in London while establishing good delivery standard gold many years ago, rather than face monitoring by government agencies, others said, that particularly in a large country like India, achieving uniform compliance with standards was a complex process and governments should act with care when formulating mechanisms and regulatory frameworks.
Compared to the reactions over a decade ago, when talk of standards and compliance often encountered opposition, the boundaries of the debate have conclusively shifted; today the need is accepted, though the path forward has yet to be clearly defined.
In separate sessions between the panel discussions during the day, experts made presentations on different themes.
First, during the morning session, Mr John Reede, Chief Market Strategist and Head of Research, World Gold Council presented a "Global Gold Industry Overview". Outlining the different influences on gold prices in the short and longer term, Reede said that while the strength of the US dollar had been one of the most influencing important factors over time, and still affected short term price movements, over time it appears that most central banks across the globe would reduce the share of US dollars held in the reserves, leading to a change in this equation.
He also pointed out that scrap, or recycled gold, while still an important source of gold currently, with volumes rising when prices go up, will, over time, increasingly come under pressure as it is impossible for consumers to be assured of the integrity of the raw material right back to source.
Another interesting presentation by Mr Harish Bijoor, a branding and management consultant, discussed the concept of a brand, its application to the jewellery industry and the changing nature of this concept due to disruptions, especially digital disruption, in almost every sphere of manufacturing, marketing and retailing. "Digitalism is the new ism that will impact every aspect of the market in the coming years," he stated, calling upon the jewellers to rethink their approaches and adopt new strategies to deal with this reality.
Pic caption: Panelists discussing the need for Robust Standards at the India Gold & Jewellery Summit
News Source: gjepc.org