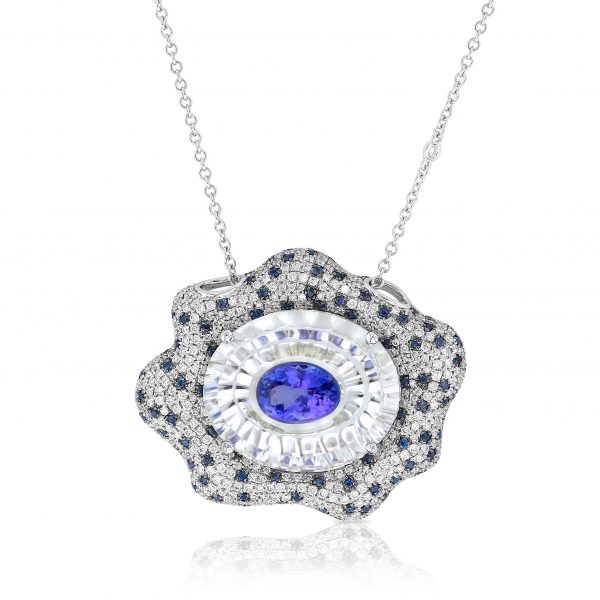 At a time when jewelers are struggling to connect with consumers and the economy is mercurial at best, exhibitors at the 2017 LUXURY show, which opened June 2 for a seven-day run at Mandalay Bay, asked retailers to find original ways to engage with clients.
"Nobody's asking the consumer his or her story," said Yehouda Saketkhou, the founder and designer of San Francisco–based Yael Designs (LUX-1216), which debuted a new campaign, #WhatsYourColor, designed to encourage salespeople to ask clients about their favorite color, thereby initiating a potentially more intimate, and emotional, channel of communication.
"It makes people more aware about color," Saketkhou added, as he showed off a ring set with a blue topaz cut by Glenn Lehrer.

Perspective collection engagement ring with hexagon diamond halo; Karl Lagerfeld (Breakers B/H)
Had Saketkhou asked fellow exhibitor Erica Courtney (LUX-801) to cite her preferred hue, it's clear what her answer would have been: "We're mainly doing a paraiba story," said the Los Angeles–based designer, referring to the electric blue tourmaline found in Brazil and Mozambique. "That's what people are interested in."
In addition to a showing a slew of paraiba-set pieces, Courtney also debuted a range of jewels featuring peach- and raspberry-colored garnets from the Mahenge region of Tanzania and a new pendant set with an amethyst specially cut by John Dyer.
With the amethyst, she appeared to be on to something: Purple gems—from lavender spinel to kunzite—seem poised to unseat "millennial pink" as a jewelry mainstay, while rose gold appeared in myriad collections, including a line of pearls introduced by Tara Pearls (LUX-601).

Deco-inspired earrings with rock crystal, diamonds, onyx, and sapphires; Umrao (LUX-1033)
Elsewhere on the show floor, the Art Deco period continues to cast its long shadow on contemporary design. At Umrao (LUX-1033), a new exhibitor based in Mumbai, India, earrings made of rock crystal, emeralds, onyx, and diamonds in an octagonal silhouette were among the show's standout styles.
Indeed, geometric shapes are having a moment. At Karl Lagerfeld (Breakers B/H), new additions to the Perspective collection of wedding rings include round and oval diamonds in hexagonal mountings.

Simply Tacori engagement ring and Classic Crescent band (sold separately); Tacori (Breakers L/K)
Meanwhile, other bridal jewelry specialists, such as Tacori (Breakers L/K), introduced styles targeting modern brides. Michelle Adorjan Chila, senior vice president of marketing and communications, -described the brand's newest collection of engagement rings, featuring emerald-, marquise-, oval-, and pear-shape diamonds set on the horizontal, as "directionally chic and much more millennial."
News Source: www.jckonline.com