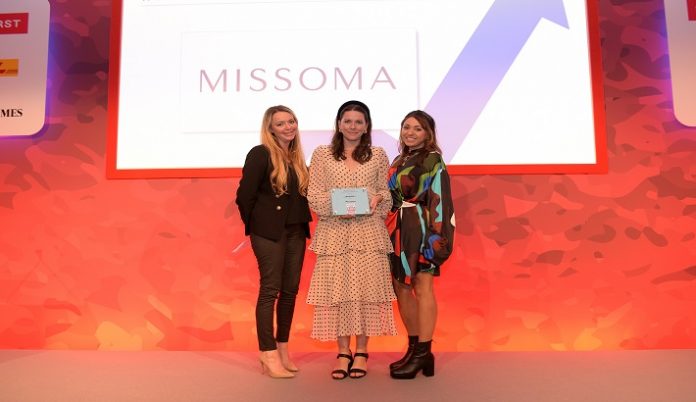 Demi-fine jewellery brand, Missoma, has been honoured at 2019 Sunday Times WorldFirst SME Export Track 100 awards.
Now in its fifth year, the annual SME Export Track 100 ranks Britain's 100 small and medium-sized (SME) private companies with the fastest-growing international sales over the last two years.
Missoma, a brand that has experienced the business benefits of the Meghan Markle effect, received the 'Excellence in Ecommerce' accolade, sponsored by DHL Express.
The brand, which makes 95% of its sales online, increased its international sales by 326% a year to £5m in 2018. Growth was particularly strong in Europe, China, Australia and America.
The Excellence in Ecommerce award was presented by Abi Brodie, vice-president of ecommerce at DHL Express, to Missoma's ecommerce manager Safura Harrison, and brand and marketing manager Kate Woods.
Kate Woods says: "We are a jewellery brand that is based in London but is exporting all over the world, and we have big, exciting plans. We are expanding in the US and are investing a lot of time and energy there."
Missoma was founded by Marisa Hordern in 2008 and has gone from strength-to-strength.
Known for its layered necklaces and delicate earrings, the brand's explosive growth has been helped in part by its creations being spotted on celebrities including the Duchess of Sussex, actress Margot Robbie and Cindy Crawford.
Social media has also played a key role in the brand's success story, with Missoma stating 70% of customers come to the site via Instagram.
Vice president of sales – ecommerce at DHL Express UK, Abi Brodie, says: "Exporting can be particularly challenging for small businesses, but it presents huge growth potential for those able to seize the opportunity. At DHL Express we're working hard to help as many businesses as possible recognize this and grow their business.
"Missoma has clearly been able to harness their export potential, so I'm delighted to have been able to present them with the excellence in ecommerce award. I look forward to seeing them continue to go from strength to strength"
New Source : professionaljeweller