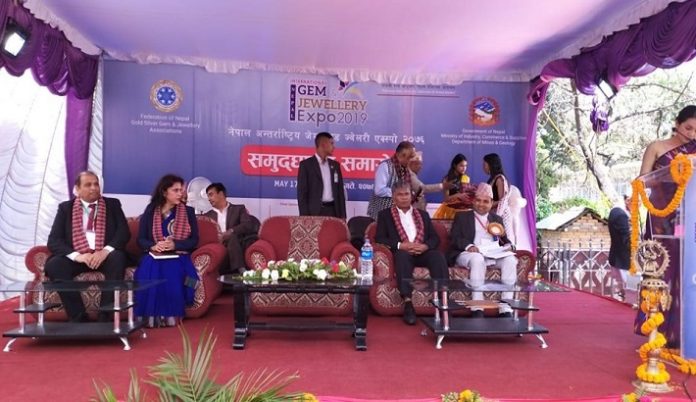 The 2019 edition of the Nepal International Gem & Jewellery Expo was inaugurated today by the Hon'ble Prime Minister of Nepal Mr K.P. Sharma Oli in Kathmandu, Nepal in the presence of GJEPC Chairman Shri Pramod Kumar Agrawal and a number of dignitaries from the government and the trade.
Other prominent leaders present on the dais included Nepal Minister of Commerce, Industry and Supplies, Mr Matrika Prasad Yadav; Industry Secretary, Ministry of Commerce, Industry and Supplies, Ms. Yama Kumari Khatiwoda; Director General Dept. of Mines and Geology, Dr Somnath Sapkota and others.
The show is being held from May 17-19, 2019 and is organised by the Federation of Nepal Gold Silver Gem & Jewellery Associations along with Nepal Government, Ministry of Industry, Commerce & Supplies and Department of Mines & Geology.
The Nepal International Gem and Jewelry Expo were first organized in 2011. Over the years, senior political leaders including the PM and former PMs have been present for the inauguration. The current PM also inaugurated the show in 2016 during an earlier stint in the apex office.
The expo aims to promote Nepal's indigenous gem and jewellery designs and establish ties with international trade.
GJEPC Chairman Shri Agrawal also spoke at the inaugural function, elaborating on the role played by GJEPC in India and expressing the support of the Indian industry to all the initiatives taken up by trade associations in Nepal.