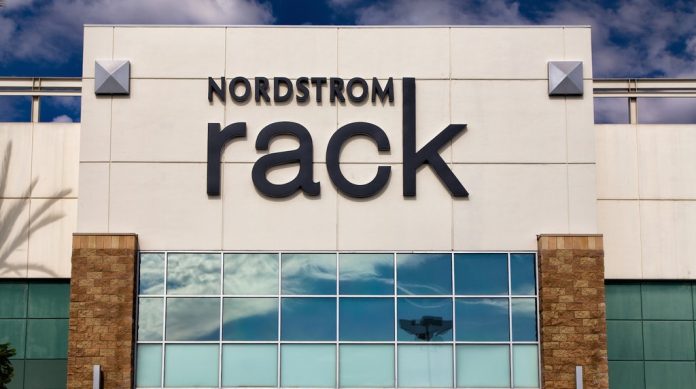 The financial success of Nordstrom's off-price Nordstrom Rack stores has offset the company's shrinking sales in its full-price locations for years.
But competition in the discount fashion retail category has intensified since the Great Recession—and the Seattle-based retailer has recently been feeling the heat from Burlington stores, Ross stores, Saks Off 5th, and (to a lesser degree) Macy's Backstage.
According to the company, comparable-store sales for Rack have declined in seven of the last 10 quarters.
But the business, which is currently embroiled in a struggle to take itself from a public company to a privately held one, still believes its discount concept can overcome.
The retailer opened five new Rack locations last week: a splashy, tech-heavy unit in New York City's Herald Square (its second in NYC), and stores in Chicago, Seattle, Los Angeles, and Davis, Calif.
The 47,000-square-foot, three-floor Herald Square store features gender-neutral fitting rooms, a stylish lounge area, and the ability to check out products on an app from your mobile device, according to several media sources that toured the location, including Bloomberg and Retail Wire.
The retailer's app also lets customers take pictures of any item and then use visual search technology to hunt for similar products in the store or online. Tablet-wielding associates can check out customers on the spot, from any location inside the store.
"We're doubled down on speed and experience," Nordstrom executive Karen McKibbin told Bloomberg. "We really see it as complementary."
The five new locations bring the total number of Nordstrom Rack stores to 232. In comparison, there are 122 full-line Nordstrom stores throughout the U.S., Canada, and Puerto Rico.