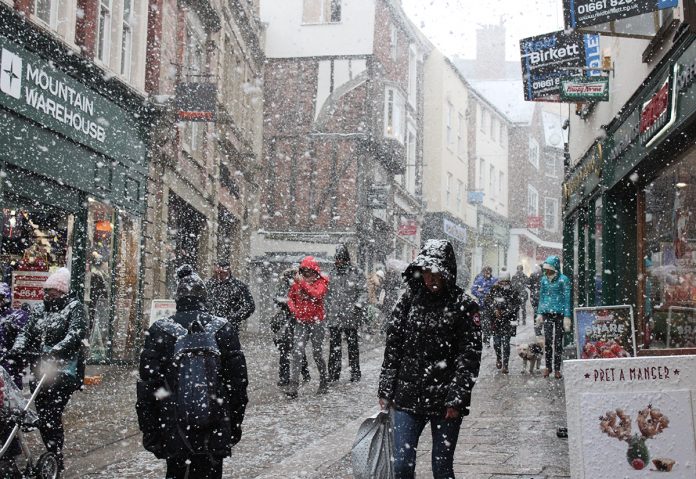 One of the UK's North Easterly cities struggles to contend with the weather as onsets of snow and rain cause shoppers to visit out of town parks.
Retailers in the historic city of Durham, which have to compete with local retails parks such at the Metrocentre and Arnison Shopping Park, find that browsers would rather travel to out of town parks to avoid harsh weather and have a one-level, indoors shopping experience.
Professional Jeweller visited the city, in the middle of a snow storm, in preparation for an upcoming Cityscape and spoke to local jewellery retailers about how the weather impacts their businesses.
Mark Soulsby, co-owner of jewellery and interiors store Moon, told Professional Jeweller: "We are weather depending in Durham. A lot of people won't come into Durham, they'll go to a shopping mall. Imagine when this [the rapid onset of snow that suddenly covered Durham during PJ's visit] happens and we're relying on a catchment area of 15 to 20 miles."
As well as the weather, shoppers coming into Durham from surrounding towns and villages could potentially be put off further.
The high parking rates for the day and lacking of free on-street parking are enough to put off a substantial group of potential customers, despite the affordable park and ride option.
Shop manager at Marketcross Jewellers, Gerard Largey, added: "The biggest challenge we have in Durham is the parking issue, trying to get in and actually park and be able to park for a reasonable amount of money is quite difficult.
"If you want to park in the multinational car park just next to us it's £11 to park all day so that might be quite reasonable compared to larger cities but in the north east of England people are quite canny with their money and why come into Durham city centre for the privilege of shopping when they can go to out of town shopping centres and park for free?"
News Source: professionaljeweller.com