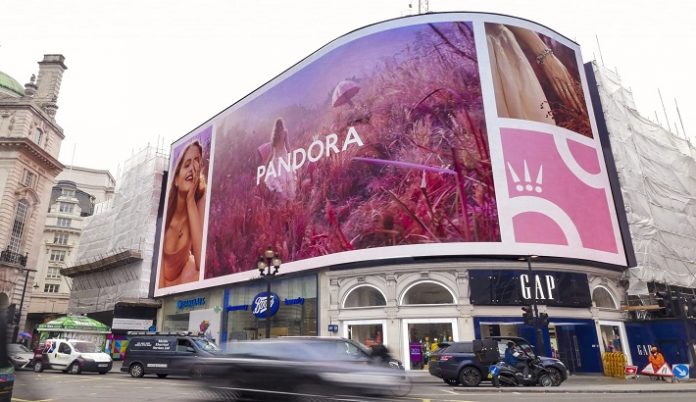 Jewellery giant Pandora has placed marketing activations in key London locations in a bid to drive awareness of the global brand re-launch and AW19 collection.
These activations follow a huge global brand re-launch which took place in LA in August, where Pandora painted a whole street pink in celebration of the new brand vision.
In Covent London, Pandora hosted a pop-up swing activation, which was visited by more than 2,400 people in just two days.
Located in the heart of Covent Garden Piazza, the activation featured an immersive circular pink structure in which consumers could view the new collection and have their photo taken on a Pandora logo swing. Consumers who posted their images on Instagram were then automatically entered into a competition to win a gift card.
To encourage consumers to visit the activation, there was also be a bespoke Pandora Candy Floss cart, handing out free treats to all passers-by, and to further amplify the activation, the Pandora Covent Garden Concept Store, located on Long Acre, offered complimentary brand biscuits and manicures for consumers visiting the capital last weekend.
Jo Glynn-Smith, marketing director of Pandora UK & Ireland, comments: "The Pandora Swing Activation is just one element of an exciting 360 global brand re-launch. Experiential marketing has always been at the centre of our strategy, creating mass awareness of our brand whilst giving back to our consumers. It's initiatives such as these that have led to the recent announcement that Pandora is the most searched jewellery brand online in 2019."
The brand has also taken over the world-famous Piccadilly Lights as the centrepiece of a nationwide out of home campaign to showcase its new brand identity and create customer desire for its new products.
The Piccadilly Lights advertisement is part of a diverse curation of nationwide out of home sites, including 36 large format digital screens comprising other premium, iconic out of home formats such as the Wall at London's Westfield.
The campaign, also appearing on more than 1,100 road and mall environments enabling Pandora to dominate the high street and key retail environments, features five different creative executions playing nationally on digital six sheets with full motion video content appearing in malls.
Media manager at Pandora, Rosie Reeves, remarks: "At such a pivotal time for our brand, we wanted an unmissable campaign on the high street that would get people excited about our new identity and distinctive new Autumn Collection. Iconic formats such as Piccadilly Lights will certainly deliver the impact and fame we are looking for, while the placement of nationwide sites will ensure mass reach in close proximity to stores across the country."
New Source : professionaljeweller