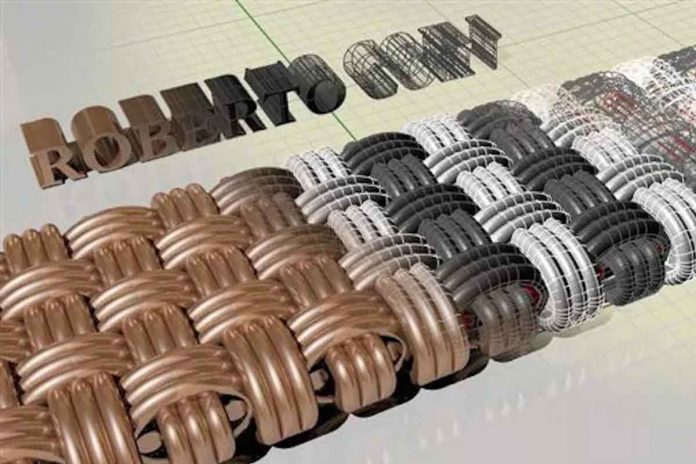 Here it is: the bracelet that put Roberto Coin on the map. Marking the debut of the designer's first-ever eponymous jewelry line, it was unveiled in 1996 as part of the Appassionata collection. Named for the Italian word for "passion," Appassionata remains the brand's signature collection to this day.
Below, a peek at an early prototype for the now-iconic Appassionata bracelet when it was still in development.
Though Coin had been manufacturing gold designs for an international portfolio of luxury jewelry houses in his native Vicenza since the late 1970s, it was Appassionata that identified him as a visionary who could marry the hallmarks of traditional Italian engraving and craftsmanship with a sensual, contemporary edge. The response from retailers like Neiman Marcus was enthusiastic and far-reaching, and quickly caused Coin to become a leading force in the designer jewelry category.
The collection's distinctive basket weave motif was meant to mimic the look, feel, and flexibility of a sumptuous fabric. Achieving the seamless, textural matrix of intricately overlapping, interlocking gold "threads" was considered a remarkable technical accomplishment, and was in fact the result of many years' worth of experimentation. (The technique is now patented.)
The inaugural Appassionata pieces were also the first to be set with a "secret" ruby. The stone of love and passion that's also believed to attract luck, happiness, and prosperity has since become the brand's calling card, a way of distinguishing the pieces as uniquely Roberto Coin.
Over the years, the Appassionata collection has been reimagined several times over and currently features bracelets, rings, earrings, and necklaces in 18k white, yellow, or rose gold, with diamonds.
(Photo at top: an early Roberto Coin advertisement for the Appassionata bracelet, circa 2002.)
News Source : jckonline.com