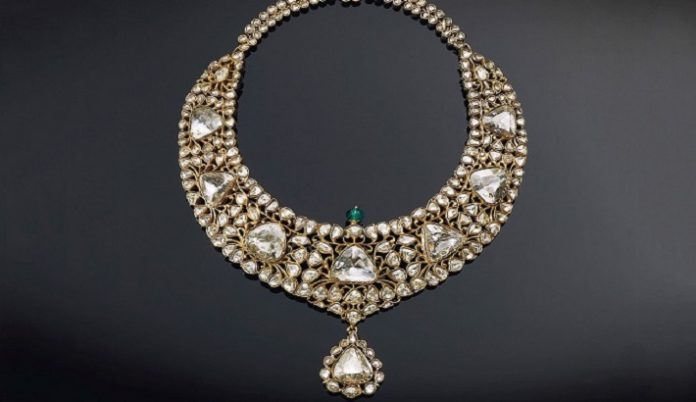 The collection features a number of outstanding diamonds, including the Mirror of Paradise Diamond and the Arcot II Diamond, both of which originate from the Golconda mine, the earliest diamond mine known to man.
The Arcot Diamond, a brilliant-cut, pear-shaped, D-color stone weighing 17.21 carats, was one of two such diamond ear drops sent as gifts to Queen Charlotte (1744-1818), the wife of King George III, from the Nawab of Arcot. The diamonds were later acquired at auction by the Marquess of Westminster and subsequently mounted in the Westminster Tiara, which was worn at the coronation of Queen Elizabeth II.
One of the greatest examples of what Kadakia calls "the fusion of East and West" is seen in the Patiala Ruby Choker by Cartier. Made in 1931, the choker incorporates 292 ruby beads weighing 356.56 carats, interspersed with panels of 132 threaded pearls, caught at each side with clasps of 120 diamonds and rubies set in platinum, each clasp formed of a cluster of six cabochon claw-set rubies. This choker is one component of a larger bib-style necklace, commissioned by Maharaja Bhupinder Singh of Patiala, one of Cartier greatest clients.
Highlights from the collection will be view in London (24 April – 1 May); Shanghai (25-28 April); Geneva (10-14 May); New York (10-14 May); and Hong Kong (24-27 May). The entire collection will be on view in New York from 14-18 June, ahead of the auction on 19 June.