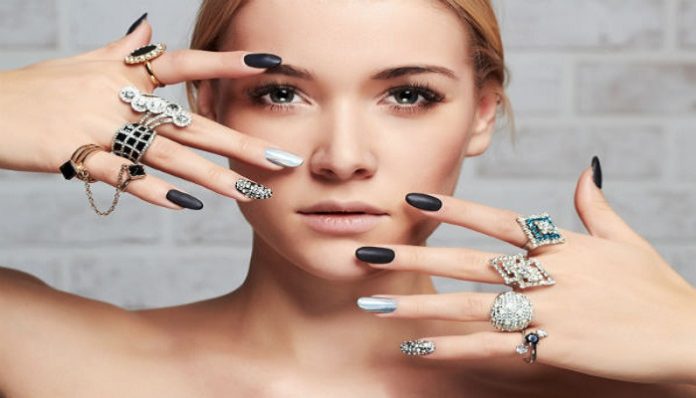 Rings have been evolving in form and function, as consumers increasingly gravitate towards jewellery pieces with character, particularly those that exhibit a contemporary edge.
Finger jewellery has been taking on myriad forms in recent years with variations emerging in purpose and design. The traditional ring finger no longer holds a monopoly on jewellery as the honour is now often shared liberally.
Contemporary silhouettes
It is not uncommon to see thumbs and indexes and even pinkies adorned with rings. Jewellers such as David Yurman even carry dedicated lines of diamond and coloured gemstone pinky rings to add credence to the trend.
Midi rings – to be worn, as the name suggests, in the middle of the finger – are also making an appearance for people wishing to exude an independent, edgy flair. They are joined by finger armours that combine modern design and technique to embellish most of a finger with a striking metal case.
Stacking rings are likewise presenting consumers with plenty of opportunities to display their personal style. Versatility is one of the advantages offered by this popular trend, which works with one's own collection of rings, brands' recommended ranges as well as multilayered rings that simplify the decision.
Multi-finger rings are another variant that is amassing a following. These encompass double rings and triple rings and all the way to a four-finger marvel. Available as full pieces or open, adjustable rings for easier fits, these pieces enable designers and jewellers to explore wide ranges of design concepts, from seemingly floating gems to posh metal frames.
Open, adjustable rings; intricate geometric shapes; S rings; negative-space items; and unusual designs are winning over consumers as well for their out of-the-box allure.
Diversity of purpose
Aside from the rush of creative finger jewellery hitting the market, rings are widening their scope of significance to remain relevant to modern-day consumers.
Where engagement rings and wedding rings remain the major players, new categories are emerging to drum up demand in the market.
Promise rings are making the rounds, with different people attaching different meanings to these. Not quite an engagement ring, these may be given or exchanged as an intention towards that direction. They can also symbolise love and commitment in a modern relationship.
US retailer Helzberg Diamonds makes things clearer and more specific with its recently launched Placeholder Engagement rings.
A nod to modern couples' penchant for choosing engagement rings together, these US$50 pieces are 'a ring, not the ring' – a ring with which to propose, to be replaced with a ring that the couple picks together to symbolise the engagement. In essence, the initiative attempts to create a category of 'proposal' rings that precedes actual engagement rings.
News Source:- jewellerynet.com