11jan(jan 11)11:00 am14(jan 14)7:04 pmMalaysia International Jewellery Fair 2019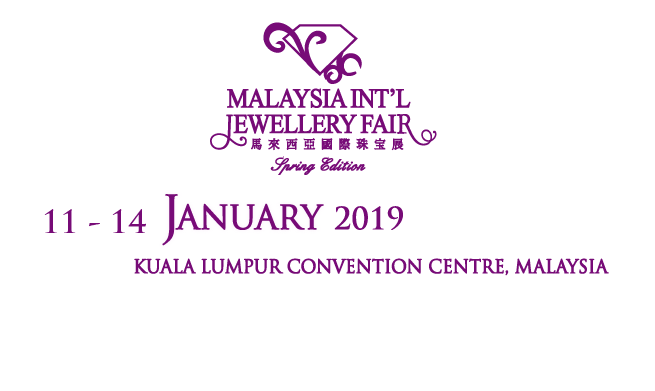 Event Details

"International Trade Fair for Gems & Jewellery Sector"
Malaysia International Jewellery Fair is an apt platform for unlimited business opportunities in gemstones and jewelry industry. It is consistently granted with support and acknowledgment from the global jewelry associations, delegates, and professional buyers. It exhibits all kinds of fine jewellery, gold jewellery, silver jewellery, platinum jewellery, diamonds, pearls, gemstones, semi-precious stones, jewellery machinery, equipments & tools, jewellery display & packaging materials.
Highlights
Luxurious Jewellery Fashion Show.
Luxurious Jewellery-Viewing Section.
Exclusive Pearl Pendant Giveaways.
VIP Special Excess to VIP Lounge.
Time

11 (Friday) 11:00 am - 14 (Monday) 7:04 pm
Location

Kuala Lumpur Convention Centre, Kuala Lumpur, Malaysia
Organizer
Elite Expo Sdn. Bhd.info@eliteexpo.com.my 46, Jalan Layang - Layang 3, Bandar Puchong Jaya, 47100 Puchong, Selangor
Fair Info
Event Profile
MIJF – Malaysia Int'l Jewellery Fair 2019 has long manifest as eminent Jewellery show in Malaysia and across the region. The show name has established successful positioning in the market and essentially amongst major industry players and Jewellery fraternities at the global forefront. The show will be held 11-14 Jan 2019 in Kuala Lumpur, Malaysia. The exhibitors of the show will get a unique chance to display their most recent products and new developments in front of a wide range of attendees who is participate in the show.
Exhibitor Product profile
The exhibitors of the show will exhibit their latest and advanced products and services such as jewellery such asDiamond jewellery, Pearl jewellery, Jade jewellery, Gemset jewellery, Platinum jewellery, Gold jewellery, Silver jewellery, 24k / 18k Gold jewellery, 24k / 18k Platinum jewellery, Antique jewellery, Enamel jewellery, Sapphire, Ruby, Emerald, Amethyst, Coral, Amber, Turquoise, Opal, Semi-Precious, Colored Gemstone, Crystal, Cultured pearl, Fresh Water pearl, South Sea pearl and Black pearl.
Visitor Profile
The show will invite various visitors like manufacturers, wholesalers, distributors, importers / exporters, retailers, agent, royal families, general buyers are the main targets.