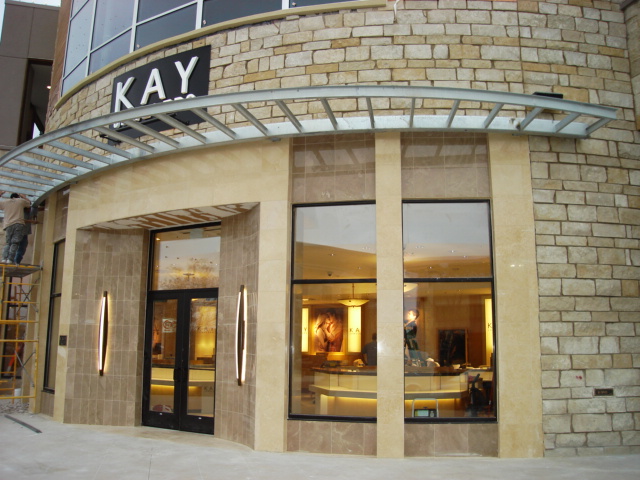 Continuing credit issues and the declining popularity of "Ever Us" resulted in a difficult year for Signet-owned chain Kay Jewelers. The retailer recorded an 11 percent drop in same-store sales in the fourth quarter and 8 percent decline for the fiscal year.
Akron, Ohio–Signet Jewelers Ltd. is set to shutter 200-plus stores this year as part of a three-year turnaround plan announced Wednesday.
The introduction of the plan comes as the retailer continues to see sales slip but enters its first full fiscal year under the leadership of CEO Virginia Drosos, who started in August.
Signet's same-store sales slid 5 percent in the fourth quarter and full year ended Feb. 3, with Kay Jewelers and Jared the Galleria of Jewelry stores accounting for much of the decline.
The company's Sterling Jewelers division, which includes Kay, Jared, and regional brands, posted a 9 percent drop in same-store sales in the fourth quarter and a 7 percent decline for the year.
The retailer pointed to ongoing issues with the outsourcing of its credit program as well as declining sales of Ever Us, the two-stone collection that was a bestseller when first introduced.
Zale Jewelry's same-store sales rose 4 percent in the fourth quarter, driven by the new Enchanted Disney collection, line extensions to Vera Wang Love and an improved selection of solitaires and fancy-cut diamonds. For the year, same-store sales declined 2 percent, with strength in Disney and Vera Wang sales offset by weakness in bridal and beads.
During the company's earnings call Wednesday morning, Drosos said the retailer is losing bridal sales to online competitors as well as to independent jewelers who are offering a "very personalized relationship" with customers, which is outweighing the competitive advantage Signet feels it has in selection.
Total sales for Signet, including its U.K. division, were $2.29 billion in the fourth quarter, up 1 percent year-over-year, and $6.25 billion for the year, down 2.4 percent. The total sales calculation includes an extra calendar week when compared with the previous fiscal year.
Drosos called the year "challenging." The company expects comps to decline again this fiscal year, which she said will be a "transitional year" for the retailer as it implements its three-year turnaround plan.
The plan termed the "Signet Path to Brilliance," includes an evaluation of the company's physical footprint, which Signet said it believes will result in the closure of more than 200 stores by the end of fiscal 2019. About three-quarters of the stores that will close are located in malls where Signet has already had another store. In addition, over the next three years, Signet will close all its regional brand stores.
Two hundred stores represent about 6 percent of Signet's total store fleet, which numbered 3,556 as of the close of the fiscal year on Feb. 3. A company spokesman said that Signet will open between 35 and 40 stores in FY 2019, including some new concept stores.
The 200-plus closings follow a year in which Signet shuttered 242 stores but opened 116, for a net reduction of 126.
Improving its omnichannel capabilities is another facet of the turnaround plan, with Drosos outlining a few specifics during Wednesday's call: allowing customers to check the inventory of any Signet store while online in a store; the expansion of online appointment booking; more personalized content on its websites; and the expansion of online wish lists.
This year also marks the first in which Signet will be operating with a fully outsourced credit program.
The retailer announced Wednesday that it has sold the remaining, non-prime portion of its accounts receivable to investment funds managed by CarVal Investors for $401 to $435 million.
This means Signet has gotten all the credit programs it used to handle in-house off its books, a process that began in May 2017.
Also on Wednesday, Signet announced the addition of two women to its board of directors and the departure of James Grant, the vice president of investor relations.
The board appointed Sharon L. McCollam and Nancy A. Reardon as directors, effective March 13.
McCollam was the executive vice president, chief administration, and chief financial officer at Best Buy Co. Inc. from 2012 to 2017, and currently also serves on the board of Stitch Fix Inc., an online apparel subscription company.
Reardon has 33 years of human resources experience, most recently working as the chief human resources and communications officer for the Campbell Soup Co. from 2004 until her retirement in 2012. She currently is on the board of directors for Big Lots Inc. and Kids II, which sells toys and other gear for infants and toddlers.
Signet's board now numbers 12, six of whom are women.
Grant is being replaced by Randi Abada, whose title will be senior vice president of corporate finance strategy and investor relations.