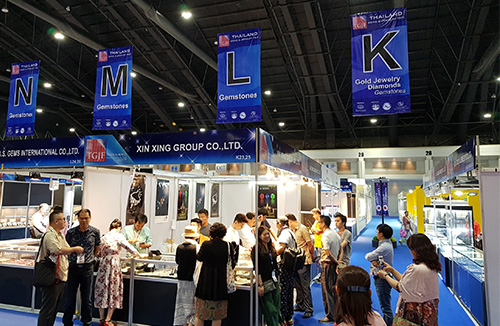 The inaugural edition of the Thailand Gems & Jewelry Fair 2017, which was held from June 15 to 18 at IMPACT Challenger 2, Muang Thong Thani, Bangkok, was a success, attracting nearly 13,000 visitors from within the country and abroad, the organisers, Thai Gem and Jewelry Traders Association (TGJTA) said in a release.
Of the total of 12,944 visitors who participated, 5,728 were overseas visitors and 7,216 were from within the country. The countries with the maximum number of overseas visitors were China, India and Myanmar.
During the four day event, which had nearly 600 exhibitors from 11 countries, besides the direct business deals struck on the show floor, there were a range of networking opportunities including trade negotiations, fashion shows, MOU-signing ceremonies, networking activities and seminars. Many new products were unveiled and the latest trends and technology was showcased, by exhibitors, the organisers stated.
Nay Lin Aung, President of the Thein Htike Lin Gemological Testing Center in Mandalay, Myanmar, said, "For the past 7 years I've been coming to Thailand to buy gemstones and equipment. I think the Thailand Gems & Jewelry Fair should be held twice a year, and the mid-year period is perfect for the fair."
"I've been coming to jewelry fairs in Thailand for the past 35 years to purchase gemstones and I find that this fair is very well organized. It's very convenient to pre-register for the event and locate booths in the exhibition hall," said Indian buyer Poojan Nilesh Patel of Poojan Gems in Mumbai.
TGJTA President Suttipong Damrongsakul, observed, "The Thai gems and jewelry industry is proud to successfully host the first international mid-year fair in Bangkok, Thailand. It would not have been possible without our partners in the public and private sectors, from the Ministry of Tourism and Sports, to the Tourism Authority of Thailand, the Tourist Police, and gems and jewelry fair associations across the Asia-Pacific region."
The organisers have said that the Thailand Gems & Jewelry Fair 2018 would be held during mid-2018.
News Source: gjepc.org