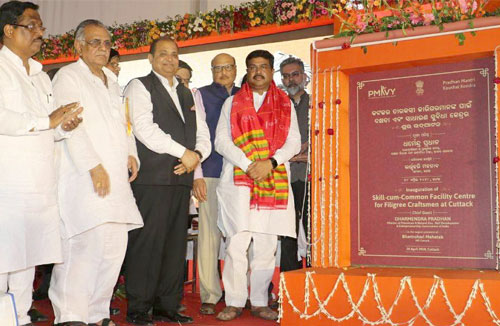 Hon'ble Union Minister for Petroleum & Natural Gas and Skill Development & Entrepreneurship, Shri Dharmendra Pradhan inaugurated a new skill-cum-common facility centre for filigree craftsman in Cuttack, Odisha on Saturday April 28 in the presence of GJEPC Chairman Shri Pramod Agrawal, GJSCI Chairman Shri Prem Kothari and other dignitaries.
The centre, which is part of the Pradhan Mantri Kaushal Kendra in Cuttack, aims to help strengthen indigenous folk art forms and skills of Tarakashi artisans and goldsmiths of Cuttack, and popularise their products across the world.
The project was launched to mark the birth anniversary of Utkal Gourab Madhusudan Das, known for his stellar role in promoting industrialisation in the state.
National Skill Development Council (NSDC), Gems and Jewellery Skill Council of India (GJSCI) and Edujobs Academy also signed a tripartite MoU on the occasion to manage the filigree centre and its Training and Recognition of Prior Learning (RPL) programme.
Speaking at the event, Shri Pradhan said that the centre would focus mainly on skill development of filigree artisans, as well as the production and marketing of hand-made jewellery for national and international markets. It will impart skills related to design and manufacturing, as well as training in marketing, including e-commerce, so as to help artisans become self-sustainable.
GJEPC Chairman Shri Agrawal also addressed the gathering and pledged the Council's support to skill development in reviving traditional jewellery forms such as Tarkashi in Odisha.
The Union minister also presented five local goldsmiths with RPL certificates, and said that under the proposed centre, all those engaged in the craft would receive certificates within the next two years. He also said that the centre would host an International Filigree Exhibition-cum-Workshop within the next six months.
Pic caption: Hon'ble Union Minister for Petroleum & Natural Gas and Skill Development & Entrepreneurship, Shri Dharmendra Pradhan inaugurating the Skill-cum-Common Facility Centre for Filigree Craftsmen at Cuttack, Odisha in the presence of Shri Bhartruhari Mahatab MP, Shri Pramod Agrawal – GJEPC, Shri Prem Kothari – GJSCI and other dignitaries.
Pic courtesy: Press Information Bureau
News Source : gjepc.org