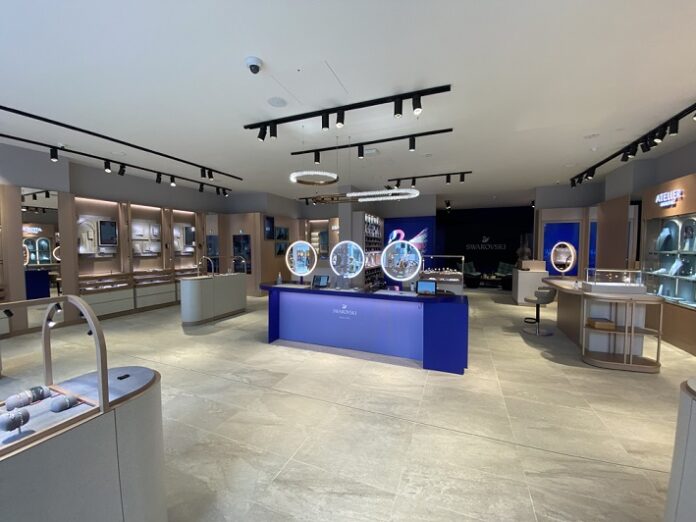 Swarovski has introduced its 'Crystal Studio' to the UK, opening on London's Oxford Street as the location for the first venue in the country.
It opened its first Crystal Studio last autumn in Milan, in celebration of the company's 125th anniversary, with more following in Paris, Beijing, Tokyo, LA and Shanghai.
The very first Swarovski retail store was also opened in London nearly 40 years ago, in Mayfair in 1983. The new concept store opened on July 30
A LinkedIn reveal from Swarovski's UK, Ireland and Nordics director of marketing, Julie Condron, said of the new Crystal Studio: "A fully immersive brand experience putting our customers at the heart. Encouraging all who visit to be creative with their jewellery looks and discover new trends."
She added: "A big thank you to all who worked tirelessly, and through tough social distancing times, to transform our new store. We're excited to keep moving our brand forward and please pop by to say hello!"
As with all of its Crystal Studio's, the shop centres around a 'Crystal Bar' where customers can discover new products, curate looks with consultations from Swarovski's in-store stylists, and explore product ranges virtually.
The UK's 'first of its kind' Crystal Studio is said to be 'infused with key aspects of Swarovski's DNA – glamour, mastery and innovation'.
In addition to an optimised store format, the layout has also been reimagined to reinvent the shopping experience. Digital dimensions are integrated throughout and guide the shopping experience; starting from the shop window screens, to interactive tablets providing styling tips.
A statement from Swarovski said of the opening: "Digital touch points throughout the store aim to enhance the purchase process but also create an inviting space in which customers can immerse themselves into the sparkling world of Swarovski."
This news comes less than two weeks after Swarovski reported that it would be culling a third of jobs at its Austrian headquarters as a result of the coronavirus pandemic.
NewsSource: professionaljeweller