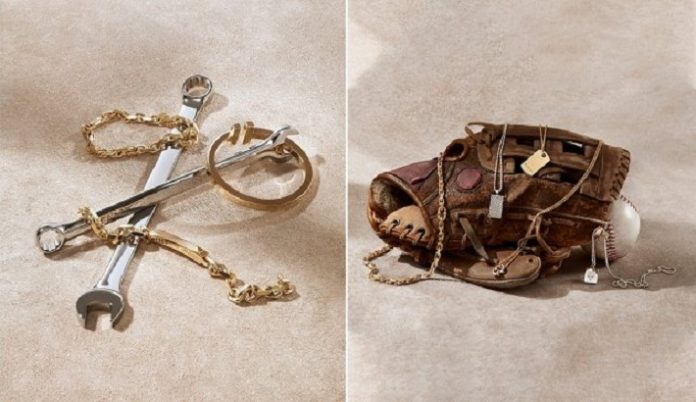 The line is 'centered on craftsmanship as the foundation of our company.'
Tiffany & Co. announced the launch of its Tiffany Men's collections, including jewelry, watches and home and accessories products.
Tiffany Men's includes two collections: Tiffany 1837 Makers and Diamond Point.
"Tiffany Men's is centered on craftsmanship as the foundation of our company," said Reed Krakoff, chief artistic officer for Tiffany. "Tiffany 1837 Makers is a nod to the workmanship and time-honored techniques used in creating jewelry — the idea that there's a person behind each object."
According to a press release:
Embodying Tiffany's craftsmanship heritage, the Tiffany 1837 Makers collection is inspired by the jeweler's hollowware workshop and its tradition of handcrafting sports trophies. Designers experimented with concave and convex forms, flat edges and motifs evocative of utilitarian hardware when creating jewelry, barware and more. Stamped with symbols like "T & CO MAKERS," "NY" and "AG925," Tiffany 1837 Makers honors Tiffany's silversmithing legacy and the fact that the luxury house set the U.S. standard for sterling silver (925 per 1,000 parts silver). The made-to-order Tiffany 1837 Makers trophy ring honors Tiffany's 160-history of making sports trophies by hand and makes a bold statement and adds edge to any outfit.
Diamond Point, on the other hand, "represents the elevated, classic end of the style spectrum with a strong, graphic pattern."
The company states:
This motif appears as a subtle accent or a prominent overlay on jewelry and Home & Accessories pieces like the Diamond Point rectangle pendant in sterling silver, cuff in sterling silver and cocktail mixer in lead crystal and sterling silver. Most of the Diamond Point jewelry designs are die struck and hand polished to achieve the distinctive textured motif.
Diamond Point takes a more modern and graphic approach, utilizing a pattern inspired by a diamond's culet that ties back to our diamond authority.
The New York Post reports that the launch is "part of the Tiffany's strategy to attract younger shoppers and pump up sales."
In all, Tiffany Men's includes about 100 pieces. Jewelry rices range from $200 to $15,000.
Among the accessories items on offer are ice tongs and cocktail shakers.
New Source : instoremag