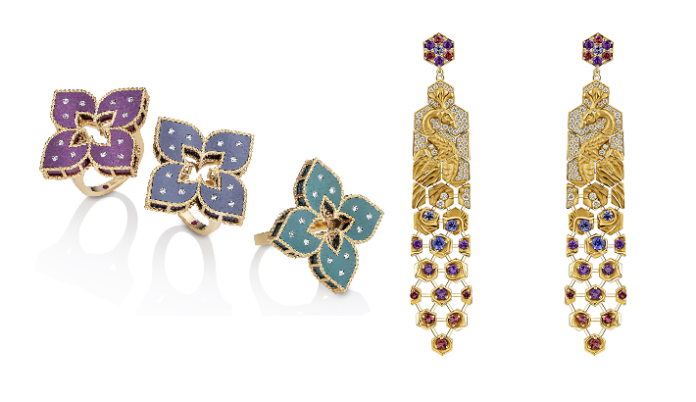 In Vicenza from 8th to 12th September 2023, the Italian Exhibition Group show will offer a high-level  business experience with the latest new entries and luxury jewellery brand trends  
At the exhibition, Made in Italy excellence, from Damiani to Roberto Coin, Crivelli and Fope as well  as international attendances such as the German company Schreiner, the French Akillis, the  Australian Autore and Dámaso Martinez from Spain 
The Design Room will be back with red carpet jewellery by renowned designers including Stephen  Webster, Alessio Boschi, Celine Roelens, José María Goñi and Lefteris Margaritis 
Vicenza, 28th June 2023 – New entries, original proposals and high-end jewellery trends from Europe and  overseas. The not-to-be-missed appointment for the jewellery industry is Vicenzaoro September – The  Jewellery Boutique Show, from 8th to 12th September in Vicenza, accompanied, from 8th to 10th September,  by VO'Clock Privé, the contemporary watchmaking event open to the public. An international landmark event for the entire gold and jewellery supply chain, the Italian Exhibition Group – IEG show offers a high-level  business experience thanks to the proposals of luxury brands from all over the world that include  reconfirmations and interesting new entries. Trends will be set by the high jewellery creations in the ICON  community, which will host the best of Made in Italy and European production with numerous companies  from Germany, France and Spain, as well as proposals from the rest of the world, Asia in particular with  companies from Thailand. 
A HIGH-END OFFER OF MADE IN ITALY AND INTERNATIONAL FLAIR 
The top brands on show will include Damiani with its iconic and timeless creations; Roberto Coin and its  colourful collections with clean and unmistakable lines; Crivelli from Valenza, which combines precious stones  with different shades of gold. Then FOPE from Vicenza, with its patented technology of small springs that  make gold link chains flexible, and Florence-based Annamaria Cammilli, which has made an art out of  researching the surfaces and textures of gold. Also on display, creations by Roberto De Meglio, fine yet  comfortable jewellery thanks to an innovative elastic system that makes it easy to wear, others by Palmiero,  a Valenza company that creates haute couture jewellery, and the Genoese group Gismondi 1754, listed on  Euronext Growth Milan. Numerous classic jewellery brands that preserve the goldsmithing tradition in the  Veneto and Piedmont regions, such as Leo Pizzo, Mirco Visconti, Davite & Delucchi, Giorgio Visconti and World Diamond Group, will also be exhibiting. The show will feature an abundance of high jewellery  companies from the rest of the world: Schreiner Fine Jewellery from Germany, known for its luxurious  creations coveted by the royal houses of many countries, the English brand Yoko London, which selects the  most unusual pearls on the market in terms of colour and size; Dámaso Martinezfrom Spain, which has taken  its clean lines for contemporary women from Bilbao to all continents, and Autore, one of the largest South  Sea pearl companies in the world with farms in Australia and Indonesia and headquarters in Sydney. The  German company Stenzhorn, whose creations feature an invisible setting technique, and Akillis from France,  with its rock-style jewellery with clean yet bold graphic lines, will also be exhibiting. 
NEW ENTRIES AT VICENZAORO SEPTEMBER 2023 
The business experience in September will be further enriched by numerous interesting new entries even in  addition to the Vicenzaoro January 2023 edition. These include the Spanish company Carrera y Carrera,  which, with more than 135 years of jewellery-making tradition and a new creative team directed by Daniel  Calvo, will be offering creations inspired by art, architecture and nature. Also showcasing will be made-in 
Germany design by Jörg Heinz, renowned for its system of interchangeable fasteners that conceal the clasp  inside the jewel so that it becomes an integral part; the classic and more traditional lines of Staurino Fratelli,  a key player in the Valenza gold district for four generations with creations that have even been appreciated  by Hollywood divas such as Sandra Bullock; and the jewellery of Maison Birks, the Canadian high jewellery  leader. Vicenzaoro September will also mark the return of the historic Valenza brand Vendorafa, recently  taken over by Gismondi 1754 to complete the group's offer and especially for the brand's recognised presence  abroad, especially in the United States and Japan. Also back in Vicenza, the French brand Djula, acquired in  2020 by the Chinese group Fosun, with its glam rock-inspired jewellery, much appreciated by singers Rihanna,  Beyoncé and Ariana Grande. 
CREATIVITY AND RESEARCH FOR RED CARPET JEWELLERY: THE DESIGN ROOM IS BACK New market trends, craftsmanship and creative talent will be the protagonists of The Design Room workshop  area, which will be back at Vicenzaoro with a selection of international designers. Unique pieces with a highly recognisable style will be on display. Arriving for the first time in the Design Room will be the creations of  Stephen Webster, a true icon in the world of jewellery design and in great demand among celebrities,  including Jennifer Lopez, Christina Aguilera, Cate Blachett and Megan Fox. Also making their debut will be  jewels by Busatti Milano, a prestigious name from the Italian fashion capital, as well as the collections of  Miseno Jewelry, which pay homage to the beauty of the Campania coastline by celebrating the experience  gained by its founder, Antonio Cardamuro, at major international fashion houses. The Baroque jewellery of  Alessio Boschi, a true ambassador of the Design Room, who, between Civita di Bagnoregio and Bangkok, creates exclusive creations interwoven with cultural citations, will also be on show as will the eccentric and  luxurious pieces by young Chilean designer José María Goñi, which have conquered the Malaysian Royal  Family as well as the singer Madonna; jewellery decorated with the eye symbol by Netali Nissim; the dreamy  collections of Morphée Joaillerie by designer and gemmologist Pamela Hastry; the personal interpretations  of inclusive society by Salima Thakker who has Indian and Belgian origins; the elegant creations of Marina B,  a company founded by Marina Bulgari and relaunched by French-Italian Guy Bedarida. Vicenzaoro's treasure  trove of design will also feature high jewellery items by Leonori, the modern design of Athenian Lefteris  Margaritis, the contemporary touch of Mousson Atelier, the innovative design of Antonini Milano, which  have been flaunted on the red carpet by stars such as Halle Berry, Anne Hathaway and Taylor Swift, and the  Dreamboule rings by Beniamino Crocco, a blend of watchmaking culture, goldsmith tradition and liquid  alchemy.