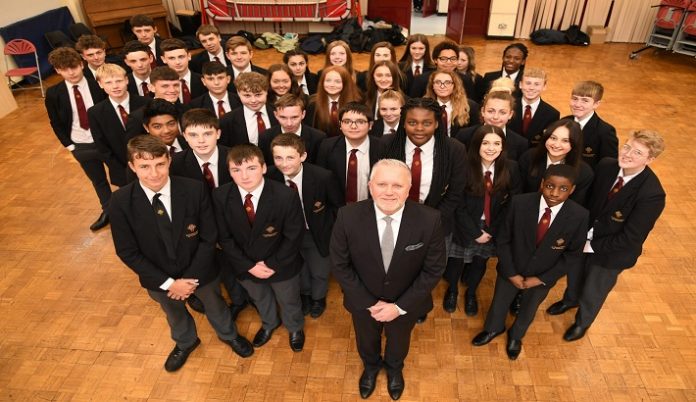 The Watches of Switzerland Group has announced plans to visit schools across the UK as part of a new community programme, which aims to help inspire young talent, with the first stop being in the North East.
Year 10 students from St Thomas More RC Academy in North Tyneside were visited by the executive director of The Watches of Switzerland Group, Craig Bolton, for a presentation where he shared his own inspiring journey and where a career in retail can lead to.
The first stop on Bolton's tour was significant as he reflected on 100 years in business with luxury watch brand Rolex after Northern Goldsmiths, situated on the corner of Pilgrim Street and Blackett Street in Newcastle, became its first authorized UK stockist in 1919.
The Watches of Switzerland Group will deliver presentations in schools up and down the country over the next 12 months to showcase the opportunities a career in retail presents from customer-facing roles and working in head office to a more creative path in visual merchandising.
Craig Bolton comments: "Being from the region, it was great to be able to speak to, and hopefully inspire, the pupils at St Thomas More RC Academy about the retail industry and what career opportunities exist. With 2.9million people working in the retail industry, it's a fantastic place to build a career. I'm a firm believer that if you have a vision, belief and work hard, you will succeed.
"We have decided to do this as part of an overall programme of working in our communities to reach out and inspire young people. As we are celebrating our Centenary between The Watches of Switzerland Group and Rolex, we are also including the inspirational story of Rolex and their founder Hans Wilsdorf."
David Watson, Headteacher at St Thomas More RC Academy, adds: "It was brilliant that the first stop on The Watches of Switzerland Group tour was in North Shields at St Thomas More. The Northern Goldsmiths store in Newcastle with its gold clock is so iconic in the North East so for our students to find out from Craig some of its history but also the career opportunities that now exist were brilliant. Hearing first-hand accounts of the world of work is so important for young people when thinking about their future careers so we are very grateful to Craig and other business leaders who give up their time to come into St Thomas More to talk to our students."
The students responded well to the presentation. Cameron Hales-Own, 15, a student from the school says: "It was an inspirational presentation and showed me that you can go from the bottom to the top with hard work and determination," while 15-year-old Emily Rutherford adds: "Today opened my eyes to new opportunities that I might not have thought even existed about in the first place."
As part of its centenary year, The Watches of Switzerland Group have also partnered with Rolex to provide 100 watches each with a commemorative engraving to mark the anniversary.
For every watch sold, £3000 will be donated to support The Watches of Switzerland Group charity partner, The Prince's Trust, who work with young people aged 11 to 30 across the UK.
The money raised will help inspire young people on The Trust's educational programs, to live, learn and earn, with specific funds set aside to support young people in the North East, where aspirations and educational attainment is at its lowest.
More Info: Watches of Switzerland Group
News Source: professionaljeweller