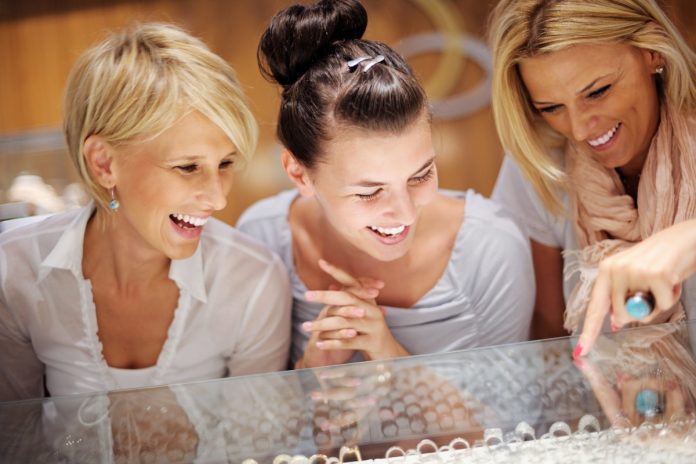 As we pull the party poppers and jump into a new year, it's time to reflect on the most important trends and stories of 2017 and think about how these will shape the next 12 months…
1. Retailers are returning to gold
The branded boutique boom is fading, and now retailers are reflecting on which products really work for them, and what jewellery categories really translate into sales in store. For some, the answer is still branded goods, but for others this line of questioning has seen them return to the traditional jewellery in which their very business was founded on. Many jewellers traded in popular silver lines for more engagement rings, weddings bands and gemstone-adorned jewels last year. Liverpool-based Wongs Jewellers went so far as to sell all of its branded stock in one sweep last year, while W.E Clark & Son traded in silver for gold a while ago, but 2017 showed the fruits of this decisions, with the independent scooping national and industry awards for its luxury transformation. Looking ahead, multiple national jewellery retailers and independents plan to give more space to gold in their windows, and only focus on dedicated fashion brands.
2. Jewellers can change lives
We all remember the story right? Earlier this year a 26ct diamond ring bought at a car-boot sale for £10 sold at Sotheby's in London for £656,750. For those who don't remember the details, the stone was bought 30 years ago after the original owner had mistaken it for a piece of costume jewellery. What both previous owners believed to be a CZ, turned out to be a 26.27ct, cushion-shaped, diamond. The truth of its value came out when independent jeweller L Guess Watchmaker & Jewellers provided them with an honest service. When they examined the ring and told the owners that it was in fact a life-changing piece, they were speechless, and the jeweller won a client for life. Remember, with great power comes great responsibility.
3. Bricks and Clicks Increase
Last year saw an influx in online-only companies opening physical stores, showrooms or pop ups because when it comes to purchasing jewellery there is no denying that an overwhelming amount of consumers want to see and feel a product before spending their money. Research by global real estate advisor, Colliers International, revealed online-only retailers are taking residence in bricks and mortar stores because internet sales growth looks set to slow in the next few years. However, for businesses which are primarily online, the main focus of a physical presence is to reinforce consumer loyalty and confidence, rather than to generate sales through the tills. Last year luxury designer e-tailer Banneya London hosted its first pop up, while numerous designer makers opened their first concept store.
4. Earrings are the order of the day
Earrings, in all shapes and sizes, were the most searched for jewels of 2017, a study by online fashion search platform Lyst revealed. According to the company's 'The Year in Fashion Report', when it came to jewellery last year, earrings were the order of the day. Tassel earrings started trending in April, and remained popular all year round across a variety of price points, while searches for pearl earrings increased significantly. Moreover, the report revealed a pair of gold hoops were purchased every three minutes in 2017. When it came to graphic design pieces, earrings by J.W. Anderson and Anissa Kermiche, were amongst the most wanted. Lyst tracked more than 100 million searches this year from 80 million shoppers, crunching queries and results split across five million fashion products from 12,000 online stores to create The Year in Fashion Report. Looking ahead, SS18 previews show ear pieces are going to be big and bold, with consumers willing to be more daring with shapes and colour.
5. "Here come the girls…"
Compared to 10 years ago, the role of women in the jewellery industry is in a far better place, but there's still a long way to go, with way more men in senior roles and females feeling constantly feeling outnumbered at trade events. To help combat the challenges women face, The Jewelry Magazine held an exclusive roundtable with five female pioneers from the UK jewellery industry, with the aim of highlighting some of the obstacles women still face, and providing practical advice for those looking to climb the career ladder. Elsewhere the UK Women's Jewellery Network officially launched at International Jewellery London, gathering the support of men and women alike with its goals to bring both genders together to enhance equality in the trade and support its female members. 2017 also saw more women breaking the glass ceiling, with Signet, for example, appointing its first female chief executive officer, and the Goldsmiths' Company announcing Judith Cobham-Lowe as its first female prime warden since it launched 700 years ago.
6. The Only Way is Ethics
The push to see the jewellery industry commit to ethical practices continued, with champions of this message making more waves than ever before in 2017. Fair Luxury held a successful conference in Birmingham, securing key figures from jewellery giants such as Forevermark, Pandora, and Gemfields, to join the discussions. The group also held several talks at IJL, and presented an exclusive exhibit at the Goldsmiths' Centre. Elsewhere, the first installment of Fairtrade gold from Africa landed in the UK, and consumer press started to question the industry's supply chain — with journalists discussing Fairtrade gold, lab grown diamonds, ethically-sourced stones and more. This year, the conversations will continue and more companies will be forced to check their supply chains as consumers are set to increasingly query the provenance of each product they buy.
7. Don't just focus on millennials
While it is important to think about millennials, and understand how to keep your business relevant to the next generation of consumers, experts have warned jewellers to not forget other important demographics. For example, at Vicenza, Trendvision Jewellery + Forecasting creative director, Paola De Luca, said the industry should be tapping into the 'Midult' market. These are people aged 30-35 and De Luca says they have a "bigger spending power than most generations". When it comes to jewellery midults crave authenticity and an element of romance. Elsewhere, many jewellers have been seeing sales surge in the 'mature and comfortable' market, and Domino revealed it creates pieces with six consumer profiles in mind – Domestic Millennials, City Millennials, Surburban Steady, Surburban Success, Lavish Lifestyle, and Mature and Comfortable.
8. Loyalty triumphs over discounts
Over the last 12 months jewellers were asking the question, 'how can we compete against heavy discounting on the high street?' While many answered this by carving out a niche – for example Mappin & Webb created an exclusive diamond to help the company stand out from competitors on the high street – those still pondering this will be pleased to know research shows customers favour shopping somewhere they trust, over somewhere offering larger discounts. This has been echoed by Black Friday data revealing online consumers were willing to spend more on more items this year, and did not insist on receiving big discounts in order to complete transactions. Furthermore, retailers throughout 2017 slashed the prices on less products, with experts predicting that the discounting trend could soon fizzle out. If this is true, the challenge for jewellers in 2018 will be to keep building consumer loyalty.
9. We love a royal romance
In a year full of trials and challenges, the nation rejoiced when Prince Harry announced his engagement to Meghan Markle. And of course, everyone had one thing on their mind, what does the ring look like? When we unveiled all the sparkling details, our website traffic surged, and our social media followers were quick to share and like the news. But what does the royal engagement mean for the industry? Well, it spells good news. As with Kate Middleton, experts predict Meghan Markle is going to rake in millions for the British economy and she is set to heavily influence fashion trends and sales in the foreseeable future. And, the proof is already in the pudding. The coat and earrings she wore during her first official public appearance both sold out, and when she wore Missoma earlier this year the British brand saw a spike in sales within hours of her being spotted in its rings. One thing's for sure, the industry should prepare for an increase in brides-to-be looking at trilogy engagement rings.
10. 'Retailtainment' is the new buzzword
During a period where shopping has altered significantly over the last decade, the retail climate has been experiencing an unprecedented shift in the way consumers are choosing to shop. With convenience at the forefront of shoppers' minds, traditional brick and mortar stores have more pressure than ever to grow the customer's experience. To stand out from the crowd retailers are engaging in experimental retail. Retailers are moving away from what was once considered the norm by creating experiences that are out of the ordinary. While there's no 'one size fits all' method with 'retailtainment', it is important to note that this concept goes beyond hosting a cheese and wine night, rather it's about creating 'instagrammable moments', and memories which are just as great as the products themselves.
News Source: professionaljeweller