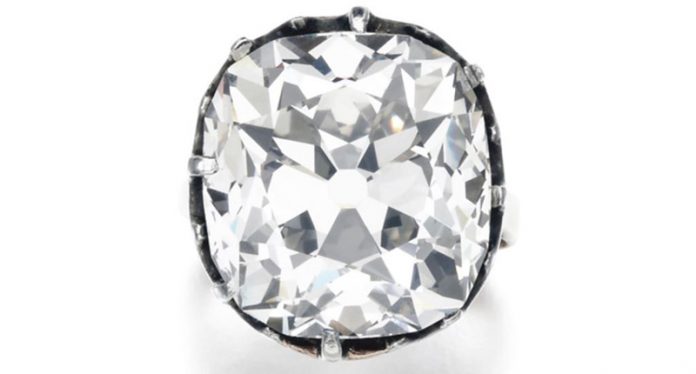 Sotheby's is calling the ring the "Tenner" diamond, a reference to the price paid for it at a car-boot sale decades ago–10 British pounds, which is about $13.
London–The owner of a diamond ring long believed to be an essentially worthless piece of costume jewelry saw the ring sell for more than $800,000 on Wednesday at Sotheby's London.
The buyer, who wishes to remain anonymous, paid 10 British pounds (about $13) for the ring in the 1980s, buying it at a car-boot sale, a sale where people look to offload unwanted items out of the trunks of their cars.
She wore it for decades to do chores and run errands, unaware that what she was wearing wasn't a piece of cheap glass but a big, high-quality diamond. The stone's old-fashioned cut and dark setting (it was set in a silver mounting that had tarnished) were likely why the ring's owner didn't know what she had, Sotheby's said prior to the sale.
Then, one day, a local jeweler spotted the ring on the woman's finger and, thinking it could be a real diamond, suggested she get it appraised.
She did and it turned out the jeweler was right–it was a real diamond, a 26.29-carat cushion-shaped stone graded as I color and VVS2 clarity by the Gemological Institute of America.
Two views of the 26.29-carat diamond that was purchased for 10 British pounds (about $13) at a car-boot sale in England. It sold for $851,000 Wednesday at Sotheby's.
The diamond dates to the 19th century, though nothing is known of its history prior to its purchase in the 1980s.
At Sotheby's Fine Jewels sale held Wednesday in London, a buyer paid 656,750 British pounds (including buyer's premium), or about $851,000, for the ring.
It was the top item in the sale, topping its highest pre-sale estimate by $400,000.
The buyer of the ring, which Sotheby's referred to as the "Tenner" diamond because of the original price paid (10 British pounds), was identified by the auction house only as a member of the international trade.
Sotheby's Fine Jewels sale totaled 5.2 million British pounds ($6.7 million) and was 80 percent sold by lot.
The second highest-grossing lot of the sale was a Cartier diamond brooch that former British Prime Minister Margaret Thatcher wore on a number of high-profile public occasions, including the day she offered her resignation to the queen.
The brooch sold for 81,250 British pounds ($105,308), more than three times its highest pre-sale estimate. Proceeds from its sale will go to the Endeavour fund, a charity that supports the recovery of wounded, injured and sick servicemen and women.
News Source: nationaljewelers.com