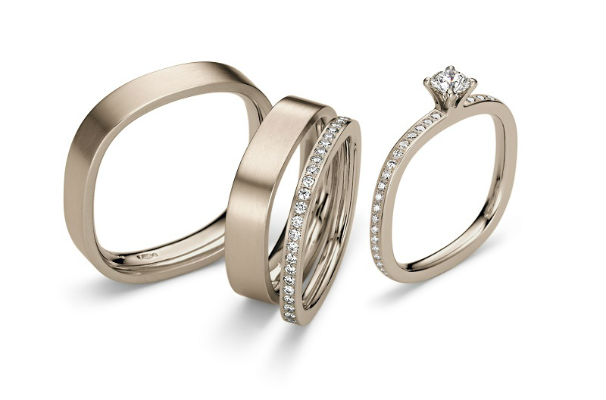 Weddings are big business for the jewellery trade, with the bridal segment proving pivotal for many brands, retailers and manufacturers. Traditional engagement and wedding rings headline the product segment, but modern relationships and changing consumer preferences offer new opportunities for growth.
As with all things millennial, personalisation is increasingly becoming an important factor in weddings for this generation. From vows and ceremonies to venues and guest experiences, more couples are choosing to create their own traditions and put their own stamp on their special day. This opens the door to non-traditional wedding bands and contemporary variations of the solitaire, among others.
Asking "does a ring have to be round," German brand Niessing recently introduced square-shaped versions of its popular designs. The unconventional ring shape is now available for the brand's Satellite and Amatis rings as part of the new Niessing Square Collection. These are available in the different Niessing gold colours.
Jewellery purchases extend to the wedding party as well, with silver and entry-level gold jewellery brands tapping a new niche of gifts for bridesmaids.
Bridal collections
Classic wedding jewellery however remains the bedrock of the category. Gold jewellery sets – whether in traditional styles or their modern interpretations – are often a focal component of weddings in China and India. Wedding bands in precious metals perennially have a market across all cultures and demographics. And the diamond engagement ring largely remains the embodiment of lifelong commitments.
Leading jeweller Chow Tai Fook recently partnered with international diamond brand Forevermark on its romantic and youthful Swan Bridal Collection.
Drawing inspiration from the regal creature that is synonymous with love, commitment and royalty, each wedding band, solitaire ring, pendant and pair of earrings in the collection highlights a responsibly sourced Forevermark diamond. Its wedding bands include stylised versions such as one portraying two swans entwined to form a heart-shaped motif on each side of the band.
Royal inspiration
Two enchanting weddings in the British Royal Family this year likewise offered couples plenty of inspiration and options for jewellery picks.
Cartier was the jeweller of choice for the Duchess of Sussex who donned diamond stud earrings and a bracelet from the brand. Three meaningful diamonds also made up her engagement ring. Her wedding ring meanwhile was fashioned from Welsh gold while the Duke's was made of platinum. The Duchess continued to set trends with the aquamarine ring she wore to her wedding party, causing a spike in aquamarine sales in the months since.
For her part, Princess Eugenie turned heads at her wedding to Jack Brooksbank with the stunning Greville Emerald Kokoshnik Tiara borrowed from her grandmother, the Queen of England. The princess kept to tradition with her Welsh gold wedding ring but defied expectations with an unconventional oval padparadscha sapphire engagement ring.
Metal figures
Platinum is indeed growing in favour as the precious metal of love in key markets, notes the Platinum Guild International (PGI).
Strong sales in bridal jewellery, including engagement rings and wedding bands, drove most of the 11 percent growth in US platinum jewellery sales in 2017, according to PGI.
Platinum dominates Japan's bridal jewellery category with a 92 percent and 82 percent share of the engagement ring market and wedding ring market respectively, while bridal jewellery demand in China's Tier 1 to 3 cities grew 22 percent between 2014 and 2016, PGI adds.
News Source: jewellerynet.com