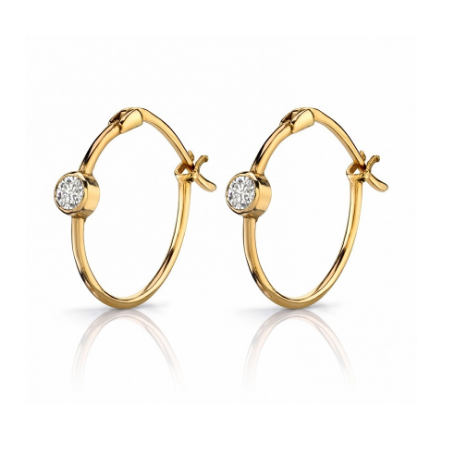 "Ethically produced and transparently priced fine jewelry, crafted in Downtown Los Angeles," is the tagline for new online-only jewelry brand Starling.
Its message could hardly feel more contemporary. The jewelry industry is rapidly tilting toward vertically manufactured brands whose values reflect those of millennials and Gen Z (post-millennials)—chief among them the environment and an emphasis on responsible production chains (see the rise of VC-funded jewelry brands Vrai & Oro and AUrate).
Chelsey Bartrum, creative director and cofounder of Starling—which specializes in chic, simply designed occasion and fine fashion jewelry, such as birthstone rings and diamond-accented gold hoop earrings—found her niche as a metal manipulator early on, when she took a metalsmithing class at 12.
Before launching Starling with cofounder Tracy Burnett in November 2016, she "crisscrossed the country and the scope of the jewelry world," she says, along the way doing professional stints with a few industry icons, including Janis Savitt, Scosha, Loree Rodkin, and Pippa Small.
For Starling, which features ultra-low prices for real gold pieces (think $45 for a reclaimed gold-chain bracelet), Bartrum's been interested in exploring "undesigned pieces." She explains: "Right now I like thinking about how to make things look as simple and clean as possible."
We had a few questions for the designer.
JCK: What inspires your work?
Chelsey Bartrum: So many things! But with Starling I really try to stay focused on creating delightful and classic pieces that are inspired by love and life.  All of our pieces are named after daughters of our friends and family—a little nod to future generations, through creating heirlooms and using sustainable business practices.  


Starling cofounders Chelsey Bartrum and Tracy Burnett

Colette pave earrings, $230
JCK: Who is your core customer? What do you think she looks for in the collection?
Bartrum: We like to say our jewelry is for baby to bubbie. But right now our core customer base is probably an older millennial crowd. Those who are in the wedding or new baby stage of life and are looking for gifts that mean something, from companies they believe in supporting. We wanted to zero in on providing very simple, classic pieces with the highest quality California-made manufacturing at fair prices, without high retail markups…We have a direct to consumer, online-only model that allows us to provide almost wholesale prices to everyone. 

JCK: What are some of your favorite pieces you've ever made—and why?
Bartrum: Starling has a few different bracelet sets for mothers and daughters. I absolutely love selling them and getting to hear the stories about who they are for. Whether it's a first-time dad buying it for his wife and new baby girl, a mom buying it for herself and her school-aged daughter…It's such a joy to be part of that meaningful connection. It's exactly why we started this company.

Baby Ring Birthstone Charm, $90
To the Moon and Back bracelet set for mother and daughter, $90
The Baby Ring Birthstone Charm is also really special to me, because it was originally my mother's idea. She had this idea that she wanted two mini rings, one for me and one for my sister, with our birthstones, hanging from a circle on a chain. For a few years I told her it wasn't a thing. Finally she broke me down. I made one for her and of course, she was right! It's such a sweet little charm and people always get so excited when they see them for the first time.
JCK: What jewelry designers do you admire—and why?
Bartrum: I really admire designers who have a strong and instantly recognizable aesthetic. As a designer, I think that it is one of the hardest things not only to accomplish, but also to stick with over the years and not get sidetracked. Brands like Jean Mahie, David Yurman, and Gabriella Kiss.  

JCK: What's the best movie you've seen recently?
Bartrum: I just got to rewatch Wild at Heart on the big screen. It's a classic David Lynch film, a little gorier than I remember, but still a love story just packed with style. Plus Laura Dern is one of my absolute favorite actresses. Her best friend gave her a pair of Starling earrings for her birthday and that was the highlight of last year for me!
(Top: Olive Hoop earrings, $320)
News Source: http://www.jckonline.com