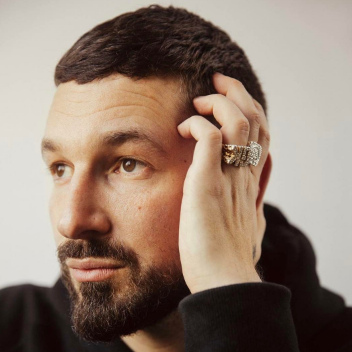 The Jewelry Center at iconic New York City community center 92nd Street Y (92Y) announced yesterday that it's hosting its first-ever resident artist—Göran Kling, an edgy Swedish goldsmith who's long been inspired by American hip-hop and pop culture.
The new 92Y Jewelry Artist Residency Program "is a month-long self-directed program specializing in jewelry and metalsmithing that provides the time and space for the chosen artist to create, research, experiment, and cultivate new directions in their work in New York City in August 2017," according to a statement issued by 92Y.
Kling will be living and working just off the city's Museum Mile and will have a private studio within the 92Y Jewelry Center, along with 24-hour access to four fully equipped studios for jewelry light metals, small-scale casting, silversmithing, and enameling.
Kling was chosen for the residency program by a jury that included professionals from the Museum of Arts and Design, the Metropolitan Museum of Art, and the Cooper Hewitt Museum.
The artist has collaborated with Adidas on a line of accessorized sneakers, and his work has been worn by rapper A$AP Rocky, among other notables.
Kling's love affair with U.S. pop culture started early: "Growing up in Sweden in the '80s and early '90s, American television shows like The Simpsons, The A-Team, and programs on MTV opened a window into American visual culture that affected a whole generation of young Swedes," he said in the statement.
"Somehow this fascination with American identity never faded…on Canal Street in New York, I saw the over-the-top big, golden crucifixes, and fat Cuban links with diamond-encrusted Jesus pieces; gold-plated brass right next to 18 karat solid gold. It was jewelry that was not ashamed of being too much—the complete opposite of the toned-down, modernist Scandinavian jewelry design. So since then I have in different formats tried to combine and explore these two opposite poles of the design spectrum."
Could there be a better city in which to explore those two particular contrasts? We think not.
Top: Goran Kling wearing his own rings (Image courtesy of 92Y)
News Source: jckonline.com