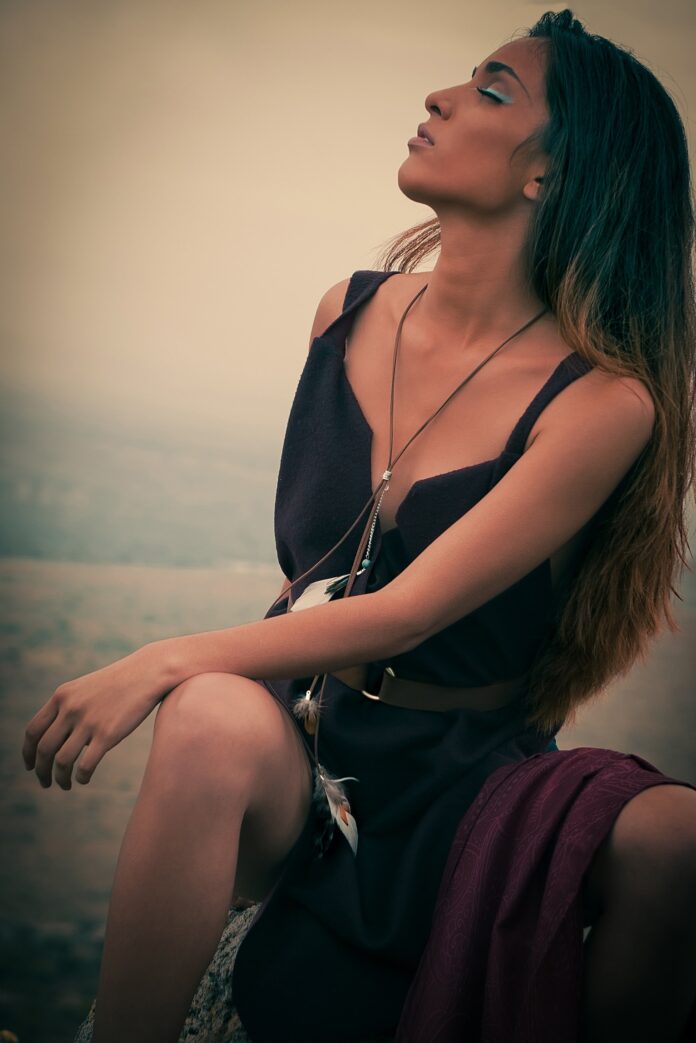 Summer is the perfect season to utterly release your excess steam, do things out of the blue, experience new things in the warm sunshine, and be completely genuine. That's why ladies must pick and wear the right summer jewelry. Not only as a flabbergasting fashion statement but as unique accessories pieces that will symbolize both this wonderful season and your personality. As it's summertime, feel free and courageous to pick the most exquisite and stylish jewelry that will accompany your fierce individuality. Here is a full guide that will help you.
Be bold – asymmetrical earrings
The mismatching trends has never been so chic. Wearing funky, asymmetrical represents fun and gorgeous reflection of your summer feeling. Be brave and bold by wearing different shape and size earrings that can go with any summer outfit you may choose. Don't be afraid to get creative and experiment with metals, colors, shapes, and sizes and maximally revive the summer look. The best option is to keep one earring hanging and have other smaller ones, or just buy an asymmetrical pair.
Be adventurous – colored gems
If you are looking for a bright, freshening, and all-summer look, then you should go for multicolored gemstones. Wearing rings and pendants with authentic gems like sapphire, moonstone, blue, and white topaz adds a refreshing pop of color to the whole summer experience. If you were to check out the https://moonmagic.com/ site, you will find ravishing precious gems that you can easily match with an elegant or casual summer outfit and rock the summer look.
Be extravagant – station necklace
It might be hard to choose the perfect necklace for the summer as the weather is usually hot and humid, thus wearing long, heavy necklaces, no matter how fashionable they might be, can be tedious. Discover diamond or zircon station necklace that has a timid vibe and luxurious appearance. The best thing about a station necklace is petite gemstone beads on a short necklace give you enough glamour and ingenuity to complete a perfect summer look. Necklace chains can come in a variety of options and lengths like a box, rope, anchor, ball, or Figaro chains, but they all give out an elegant summer feel.
Be playful – rose gold jewelry
Summertime is when ladies get a nice tan, when the sun lights up your skin and when your hair gets that beautiful glow. The rose gold jewelry falls into the summer color category as it meticulously blends with summer tanned color and vividly exudes your gracious appearance and style. Rose gold metal is made from a combination of gold, copper, and a little bit of silver, but this warm hue is an ideal color for summer nights. Nowadays you can find earrings, necklaces, bracelets, and various pendants made out of rose gold. This is one of the jewelry essentials that is a must-have this summer as it incorporates sophistication and originality.
Be enliven – the flower element
Flowers are truly a symbol of purity and life. As flowers grow they enliven the world around them, and by wearing some flowery jewelry pieces during summer you too can invite more living feelings into your organism. Choose a delicate floral embellished bracelet, or opt for a shimmery necklace with a lotus flower pendant. Have in mind that flowers represent a booming life, and summertime is the perfect time to wear jewelry with this dazzling ornament.
Be yourself – seize minimalism
In the end, some of the essential jewelry pieces are those that represent your character. Even during summer, don't fall for current trends if you don't like specific jewelry items like chokers, but rather stick to minimalism trends that will never go out of style. Choose small silver hoop earrings, or wear simple layering rings in different metals. Very often wearing a simple and small earring in interesting shapes can directly transform your summer look.
Seize the summer sun, enliven all your senses, and put on jewelry pieces that accompany your current mood. Styles constantly change, but some of the above-mentioned essential jewelry tips will always keep you in fashion.