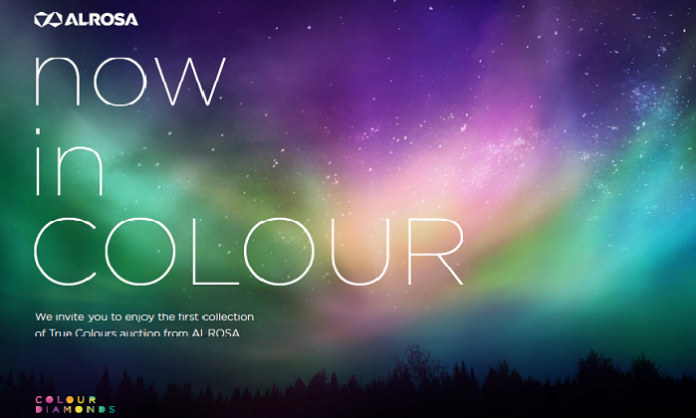 ALROSA, the world's largest diamond producer by output in carats, will hold the first of its kind "True Colours" auction of coloured polished diamonds. It will be first presented during Hong Kong Gem & Jewelry Fair in September, 2018.
The collection includes 250 polished diamonds of various shapes and colours – purple, pink, orange and vivid-yellow stones with GIA-certificates, some of them of very rare shades. That will be the first time when ALROSA represents its large coloured diamonds in such quantity.
The star of the show will be a fancy deep purple-pink cushion of 11 carat. According to GIA, it is the largest diamond of this colour ever certified by their lab. Another hero stones of the collection– a vivid orangy yellow diamond of over 15 carats and a cushion-shaped 11-carater of fancy vivid yellow.
"It took more than a year to prepare the collection. It is a masterpiece of diamond production created by skillful professionals who put heart into their work, keep the traditions and know what a real "Russian cut" is. We live up to our promise of highest quality and ethical standards of our stones. This collection will once again prove this statement and will become a stepping stone to our goal of taking in the coloured diamond market", ALROSA deputy CEO Yury Okoemov said.
ALROSA will sell these stones of "True Colours" auction via a special electronic platform, which has proven its worth during successful sales of large stones earlier. The auction will become regular happening once or twice a year.
From 2018, ALROSA is sorting its coloured rough diamonds into 19 colour groups. Most of them are polished by ALROSA cutting subdivision.
About ALROSA:
ALROSA is the world's leading diamond mining company, accounting for 27% of global rough diamond production in terms of carats. The company operates 11 kimberlite
pipes and 16 alluvial deposits in Yakutia and Arkhangelsk Region of Russia. ALROSA stones are mined in conflict-free areas and come straight from the producer, ensuring transparent origin. The company is also a leader in terms of social responsibility, spending $150-200 mn a year for social projects and $100 mn for environment.
Besides rough diamond mining, ALROSA has its own in-house cutting and polishing division,"Diamonds Alrosa". The branch is concentrated on coloured and large colourless
stones.
Fancy Deep Purple-Pink
A mysterious yet feminine color, this 11.06 carat Natural Fancy Deep Purple-Pink cushion is an even and saturated blend of pink and purple with the diamond appearing grape purple at first glance. The Deep intensity is extremely rare and valuable resulting in the diamond's strong dark color. The diamond has gorgeous faceting that pays off with maximum brilliance and excellent fire.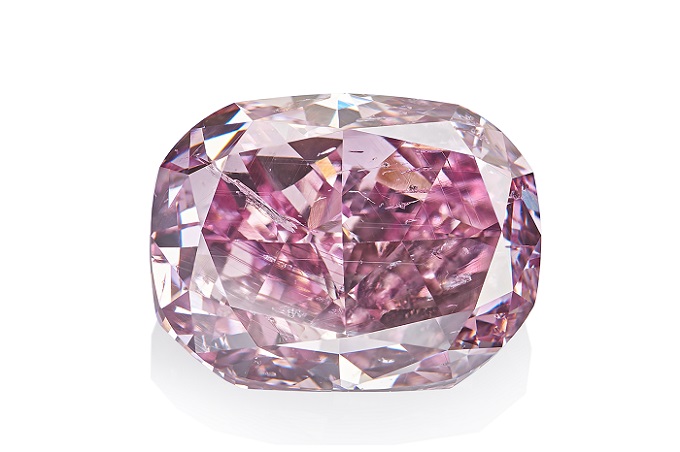 Fancy Intense Pink
An astonishing pink diamond with a color so amazing it rivals even the most vibrant vivids! This 1.03 carat non-modified oval shape has a gorgeous outline and make,
superior pink color hue and saturation, and a fine invisible SI2 clarity grade.
Fancy Pink-Purple
Beautiful fire lights up the natural and royal color of this Fancy Pink Purple diamond. The gorgeous combination of pink and purple is put on display for all to admire in an absolutely stunning, perfectly proportioned cushion shape.
Fancy Deep Yellow-Orange
Warm and full color prevails in this 1.02 carat cushion shape Natural Fancy Deep Yellow-Orange diamond – this natural orange diamond is a colored diamond whose color brings to mind the soothing earthy tones of autumn, orange and yellow in a rich satisfying intensity, while exuding striking brilliance. The heart shape is feminine and nicely symmetrical.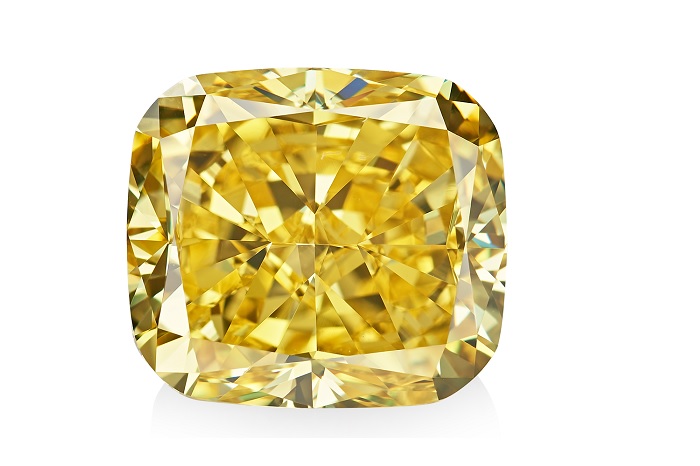 Fancy Vivid Orangy Yellow
A lively and bright yellow diamond with a splash of rare orange, this 15.11 carat SI2 oval Natural Fancy Vivid Orangy Yellow diamond comes to life with brilliance and luster. Vivid intensity giving beautifully saturated color.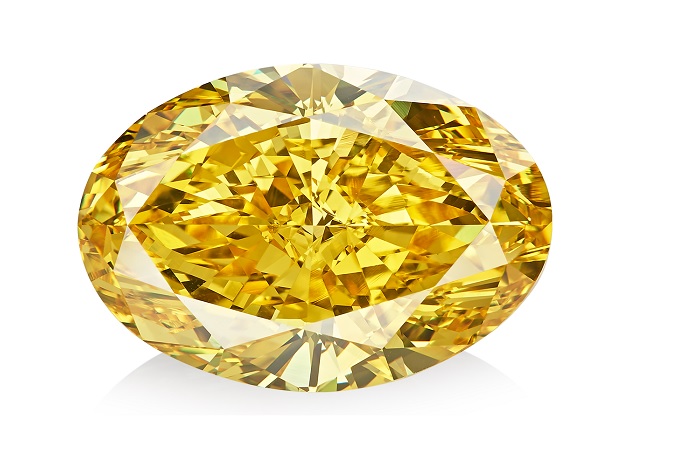 Fancy Vivid Yellow
5.05 Carat
Fancy Vivid Yellow
11.19 Carat
Fancy Intense Yellow
Bursting with bright lively color, this 3.01 carat Natural Fancy Intense Yellow VVS1 round is a dazzling sunny yellow. Rare "Intense" intensity resulting in rich saturated color. Phenomenal brilliance and lovely faceting.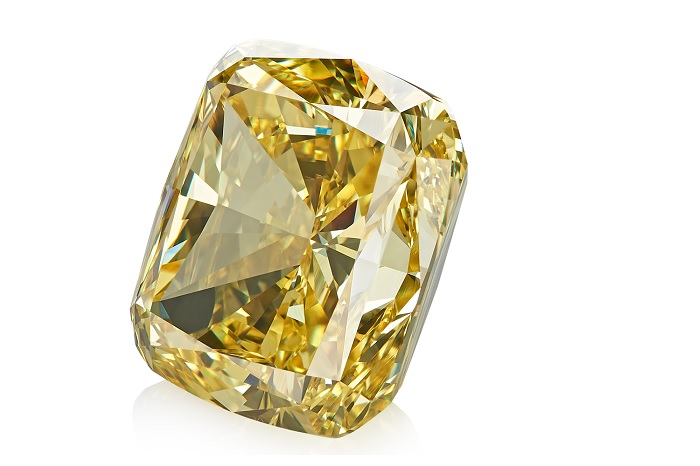 Fancy Intense Yellow
13.04 Carat
Fancy Intense Yellow
18.30 Carat
Fancy Vivid Greenish Yellow
2.64 Carat
Fancy Deep Brownish Yellow
This 26.06 carat cushion cut Natural Fancy Deep Brownish Yellow diamond is a full-bodied yellow with distinct brown overtones that add unmistakable sophistication to a rich hue. The tinge of brown dials down the brightness of the yellow, making it an ideal color for the transition to autumn. This diamond has optimal brilliance and scintillation.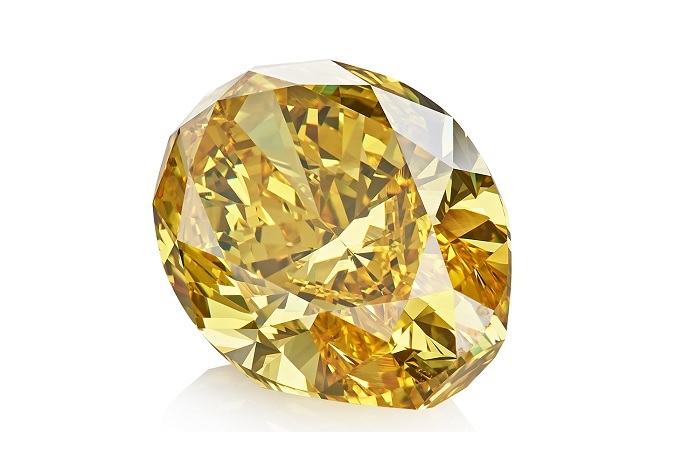 News Source: ALROSA