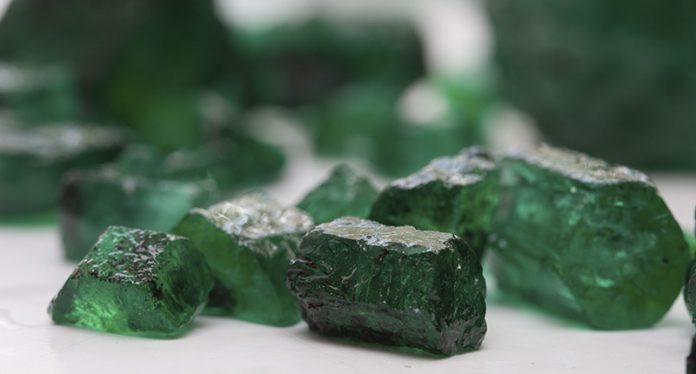 London–Its first auction of the year helped Gemfields' Kagem emerald mine surpass the $500 million revenue mark.
The auction of predominantly commercial-quality rough emerald mined in Zambia was held in Jaipur, India, from Feb. 19 to 22 and totaled $10.8 million.
Both Gemfields and local news reported that bidding was lighter than normal, with some customers noting the decreased availability of financing for gemstones in India amid the bank fraud allegations surrounding Nirav Modi and Gitanjali Gems.
Still, the auction was 95 percent sold by volume. It realized an average per-carat price of $3.05, lower than the previous emerald auction's $4.68 because of the inclusion of lower-quality grades.
With the auction results, Kagem has now passed the $500 million mark in aggregate revenue since it acquired its stake, Gemfields said. The 27 auctions of emeralds and beryl mined at the site since July 2009 have generated $506 million.
The company said it believes this is the first time a colored gemstone mine has "transparently attained this milestone with publicly available data."
Gemfields is now 100 percent owned by Pallinghurst. The company owns 75 percent of the Kagem mine, with the remaining 25 percent held by the government of the Republic of Zambia.
Its next auction, comprised of predominantly higher-quality emeralds, is slated to take place in Lusaka, Zambia later this year.
News Source : nationaljeweler.com