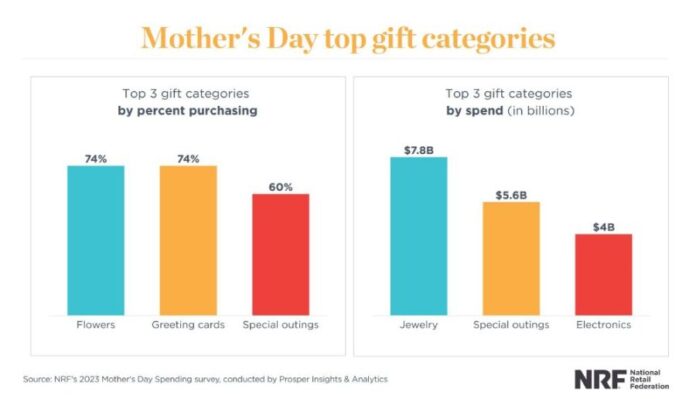 Mother's Day is just around the corner, and according to the National Retail Federation (NRF) and Prosper Insights & Analytics, consumers are planning to spend a record-breaking $35.7 billion on gifts this year. This is nearly $4 billion more than last year's record of $31.7 billion. Jewellery is one of the most popular gift categories, with consumers expected to spend a total of $7.8 billion on it.
The annual survey found that 84% of US adults plan to celebrate the holiday and will spend an average of $274.02 per person, the highest in the survey's history. The top spenders are those aged 35-44, who are expected to spend an average of $382.26 on Mother's Day.
The most popular recipients of gifts are mothers or stepmothers (57%), followed by wives (23%) or daughters (12%). The most popular gifts to give are flowers (74%), greeting cards (74%), and special outings such as dinner or brunch (60%).
NRF President and CEO Matthew Shay said, "Mother's Day provides Americans with an opportunity to honour important women in their lives. As people make plans to celebrate this year, retailers are prepared to help shoppers find gifts of appreciation and admiration for those they want to recognise on this special day."
Gifts of jewellery, electronics, and apparel are the primary drivers of growth this year. Not only are consumers planning to spend more on these gift categories, but more consumers are interested in gifting these items than ever before.
While most consumers shopped online last year for the perfect Mother's Day gift, the survey found that just as many people are turning to department stores as a shopping destination this year. Consumers are also planning to shop at specialty stores (30%), local and small businesses (24%), and discount stores (23%). Moreover, 46% of consumers are interested in product subscription boxes, up from 39% last year.
The survey of 8,164 US adult consumers was conducted from 3rd-11th April and has a margin of error of plus or minus 1.1% points.