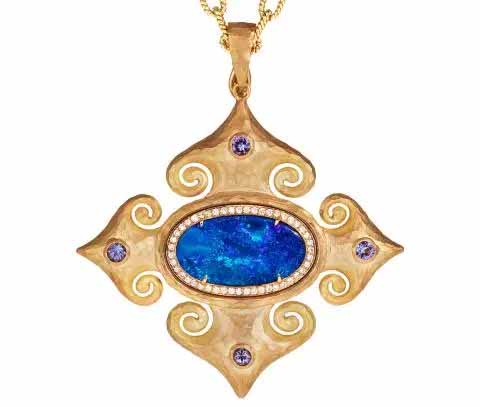 For the retailer who offers artisan jewelry, championing designers is nothing new. The stores that specialize in this area have been doing it, and doing it well, for years. There are changes in the industry—the emergence of millennial buying power and the influence of technology—but the key components to selling artisan remain the same. It is about education and romance.
The romance of designer jewelry, according to French Thompson of French Designer Jeweler in Scottsdale, Ariz., is about "experiencing something outside the mainstream." For Thompson, the first priority is educating the consumer: "Many times, they don't know there is jewelry that is not mass-produced or that they can own a one-of-a-kind item for the same price as something mass-produced. Finding out that there is unique work available is the first step to owning something."
According to Hanna Cook-Wallace of Studio Jewelers in Madison, Wis., selling designer "is about education and sincere advocacy." Shows, she says, are a great way of getting a staff passionate about the designers. "They get to know and love the people behind the work and learn what materials and techniques make their jewelry so special."
"Knowing and loving the people behind the work" is a common thread. Rhinebeck, N.Y., retailer Bruce Lubman of Hummingbird Jewelers, which carries Pamela Froman, Alex Sepkus, and Alishan, describes the strength of his relationships with designers: "We only work with people who believe in the retail model. There's a reciprocity between the designers and the store—we are passionate about educating our clientele about their story and their process, and they are happy to direct the sale our way when applicable."
Once the education (on materials and techniques) is in place, romancing is easy. The uniqueness of the jewelry ensures there is a story to tell. When he heads to Tucson next month, that is precisely what Leo Fried will be looking for. The owner of Blue Heron Jewelry in Poulsbo, Wash., says, "I will be looking for a designer with a story and a fresh and different look. I feel it is important to maintain complementary styles to what we carry and to set ourselves apart." At a show like JCK Tucson—where every designer is distinctive—that should not be a tall order.
Top: Pamela Froman one-of-a-kind purple opal pendant
News Source : jckonline.com