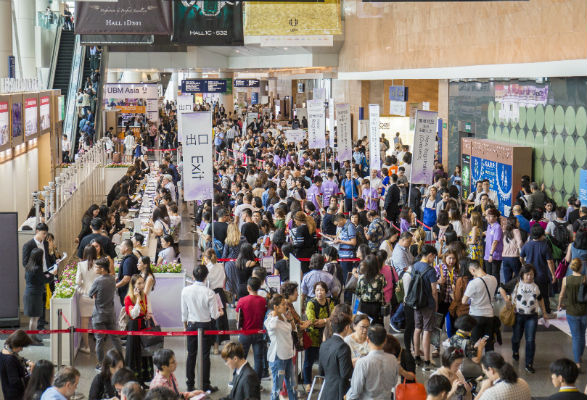 Business sentiment was cautiously optimistic at the recently concluded September Hong Kong Jewellery & Gem Fair. This was the show's largest edition ever, with over 3,700 exhibitors of jewellery materials and fine finished jewellery offering their latest selections to professional trade buyers across two venues.
At the AsiaWorld-Expo (AWE) section of the fair from September 12 to 16, several diamantaires said the show met their expectations. Demand however remained relatively guarded due to political and economic uncertainty stemming from the US-China trade wars as well as the depreciation of the renminbi, among others, they continued.
Coloured gemstone companies said the market was partial to smaller, high-quality stones. According to the International Colored Gemstone Association, emeralds were in demand at the show. Pink morganite also moved well among Chinese buyers, it added.
Pawan Pamnani, proprietor of India's Artia Jewels, was looking to spend around US$1 million on large diamonds of 5 carats and up as well as coloured gemstones in fine cuts. The jewellery retailer said he intended to buy fancy-shaped diamonds and round brilliants in HIJ colours.
Jewellery manufacturers at the Hong Kong Convention & Exhibition Centre (HKCEC) section of the fair from September 14 to 18 said buyers from Australia, the Middle East, Russia and even Africa were active at this year's fair.
Business ground to a halt on September 16 when both venues remained closed as Typhoon Mangkhut swept through the city. Trading was thus brisk at the AWE on the third and fourth days of the jewellery materials section of the show, in anticipation of a truncated exhibition.
News Source: jewellerynet.com