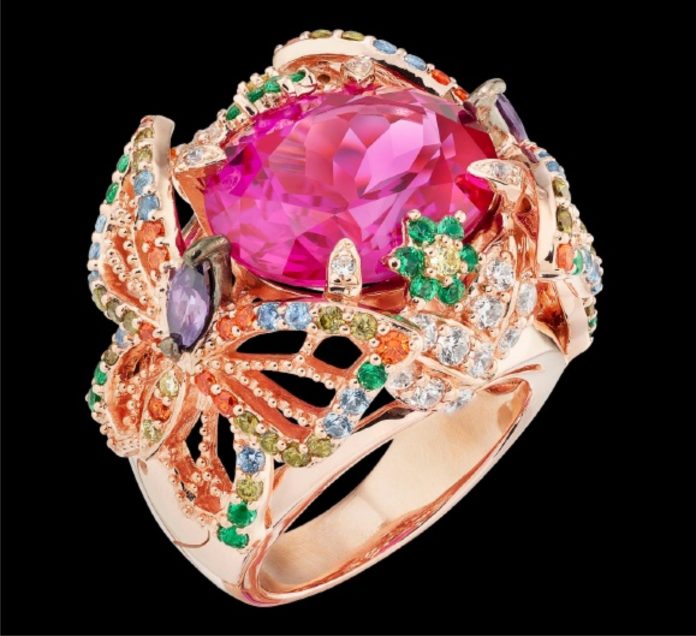 Renowned global women's empowerment group, The Sorority, has unveiled its first ever exclusive product launch.
Collaborating exclusively with Sorority member and acclaimed jewellery designer Anabela Chan, limited edition pair of Soror (Sister) rings have been conceived as two distinct expressions and embody the vision of the private member club – to unite women and inspire success.
This inaugural collaboration marks the first time The Sorority has collaborated with one of its members and felt like a natural fit – a part of the journey and next phase as the club goes from international strength to strength.
The Soror sapphire ring represents joy and positivity. Crafted in 18ct rose gold and blacken gold vermeil the piece has been a handset with an array of laboratory-grown created gemstones including a 16-carat oval pink sapphire, with pave-set emeralds, violet amethysts, blue topaz, orange and yellow sapphires, olive tourmalines and white diamonds.
The Soror tourmaline ring exemplifies a woman's inner strength and power. This cocktail ring has been crafted in 18ct yellow gold and blacken gold vermeil, and adorned with laboratory-grown created gemstones including a 16-carat oval burgundy tourmaline, with pave set violet and lavender amethysts, pink sapphires, and white diamonds.
"We are delighted to collaborate with our Sorority sister Anabela Chan to unveil two exquisite Soror rings, embodying the spirit of our distinct sisterhood. Through Anabela's elegant designs, crafted to bring joy, strength and confidence, it is my sincerest wish that The Sorority will support and inspire others throughout their journeys. Journeys of equal wonder, achievement and integrity.
As women, we are individually unique, yet all together, we are not alone," says The Sorority founder and president, Lisa Tse.
Ever since The Sorority was founded in 2010, the club has attracted influential women from around the world establishing a trusted circle of inspiring professional women.
To further underpin The Sorority's support of women, 20% of sales proceeds from the Soror rings will be donated to Women for Women International to support their work providing women with the skills, training, resources and support they need to transform their lives and communities after conflict.
News Source: professionaljeweller.com